---
As part of their continued commitment to extend exciting opportunities for career and skill development, Ceylon Tobacco Company (CTC) recently assigned Ramesh Nanayakkara, Head of Production, for a two-year stint to Papua New Guinea.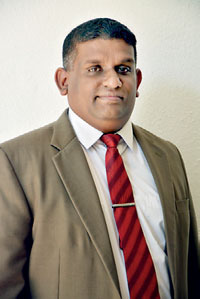 This international assignment is yet another company initiative to spearhead knowledge sharing and the distribution of proven strategies essential to the development of the wider British America Tobacco (BAT) network.
"At CTC, we have always provided our employees with a multitude of opportunities including on-the job training opportunities, cross functional and international exposure and stretch projects among others. Accordingly, we believe that exporting local talent to foreign markets will not only enhance the efficiency of our resources but also improve the productivity of our factories on a global scale. I am confident that Ramesh's stint in Papua New Guinea will assist in implementing effective strategies that will help overcome operational challenges faced in the market and improve efficiencies overall," said CTC's Chief Executive Officer and Managing Director, Michael Koest.
During his time in Papua New Guinea, Nanyakkara will occupy a comprehensive role as Factory Manager, leading a team of 150 and overlooking all factory proceedings including Human Resource Management, Engineering, Health and Safety. Moreover, he will be instrumental in the implementation of an established factory efficiency improvement programme known as the Integrated Working System (IWS). His cross-functional knowledge and first-hand experience in improving local factory efficiencies at CTC will be a key contributor in the growth and development of the Papua New Guinea market.
Commenting on the start of his stint abroad, Ramesh Nanayakkara said, "It is indeed a privilege to be given this opportunity in an international market and I am humbly proud to be selected for this assignment. I am excited to work amidst different challenges and cultures with people from different backgrounds to collectively drive the company in achieving benchmark BAT practices."
Nanayakkara holds a BSc (Hons) in Engineering from the University of Moratuwa and is also a past pupil of Rahula College, Matara. He began his career at Nestle Lanka PLC,and then moved on to stints at Coca-Cola Beverages Sri Lanka, Holcim Lanka and Bharati Airtel during which he was involved in supply chain management practices. In 2011, he joined CTC as the Supply Chain Planning, Procurement and Logistics Manager wherein he was instrumental in minimizing supply chain risks and ensuring sustainable plans were in place. In 2013, Nanayakkara was offered the role as the Head of Production at CTC, a role he has occupied since.
CTC will continue to provide a platform for employee development alongside overall efficiency improvement that will strengthen their proposition to produce cross-section and cross-market corporate success stories in the future.