---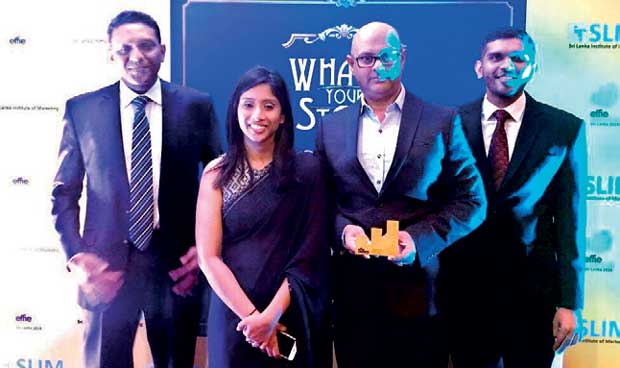 Gold for Janashakthi from left: Janashakthi General Insurance Limited Chief Executive Officer/Director Jude Fernando, Marketing Head Manindri Bandaranayake, BBDO Lanka Managing Director Santosh Menon and Life Senior Brand Manager Jude Niranjith Silva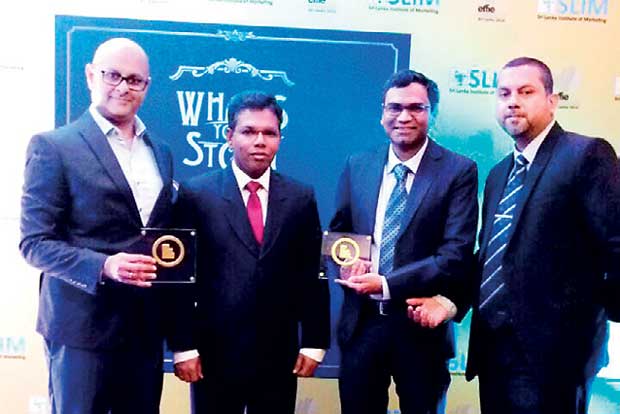 Believers in Glass shortlisted from left: BBDO Lanka Managing Director Santosh Menon, Piramal Glass Domestic Marketing Head Thushara Deshappriya, Commercial Vice President Reetesh Shrivastava and Marketing Senior Manager Enoch Perera
BBDO Lanka took home a Gold and a Finalist award for its two entries at the Effie Awards Sri Lanka held recently at the Waters Edge.

It was awarded a Gold award in the Insurance category for its 'Guiding Light for Life' campaign for Janashakthi Insurance and a Finalist award for its 'Believers in Glass' project for Piramal Glass in the David vs Goliath category.

BBDO Lanka MD Santosh Menon commented: "We are delighted to be able to showcase the work that really works for our clients. We had two entries this year and we won for both a 100 percentage success rate."

He continued: "Janashakthi Insurance is a great client who liked and understood our idea and gave us the freedom to execute it, allowing us to create great work that achieved the client's objectives. With 'Believers in Glass' for Piramal Glass, we are thrilled to have been recognised for making a big impact whilst working with a small budget. We continue to fight this important battle against plastic in these dire times." The Gold award winning 'Guiding Light for Life' campaign for Janashakthi Insurance PLC dealt with the strategic communications challenge that faced the entity upon its split into a solely life insurance company. Janashakthi General Insurance Limited handles the general insurance business. Life insurance is viewed as an intimidating and unpopular product in Sri Lanka, forcing people to consider their inevitable mortality, making it an underdeveloped category experiencing slowing growth. BBDO Lanka brought out the Janashakthi lamp of yore to showcase Janashakthi life insurance products as a guiding source of light that protects from the dangers hidden in the darkness and turned a category associated with death into one with light and life. The campaign also exceeded its KPIs, doubling the growth targets in the first quarter of launch alone.

The David vs Goliath Finalist awarded 'Believers in Glass' project saw Piramal Glass up against the faceless Goliath scourge of plastic within strict confines for getting the message across. BBDO Lanka's insights took them on a new route to effecting behavioural change in terms of plastic consumption: Through Sri Lankans' stomachs. People were blissfully unaware of the many deleterious effects of plastic on food via packaging even though food safety ranks are quite high amongst their concerns. Thus 'Believers in Glass' created their 'Food loves Glass' educative campaign, effectively communicating the message via social media, PR and one to one communication with policymakers related to food and medical packaging. This unconventional approach has resulted in a campaign that spent very little but generated very high impact.

"Our results, are of course, a result of great team work by our creative team. Theja Kalubowila and Roshan Quintus did an incredible job at the time, leading the creative team to create 'Guiding Light for Life'. We continue our efforts to generate great creative work that works, creating highly impactful and worthy campaigns in the Sri Lankan marketplace," said Menon.