---
Says there is a false narrative about HR violations during war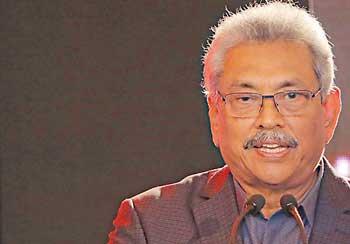 SLPP presidential hopeful Gotabaya Rajapaksa yesterday proposed to lead a future government that would revere and uphold democracy and always safeguard the rights of the public. .
He made these remarks while speaking at the convention of the SLPP Lawyers Association on Saturday. He said there was a false narrative about human rights violations which supposedly took place in the last stages of the war against terrorism.

"This false narrative blithely ignores the many delays in the pursuit of victory that arose from our strong commitment to protect and uphold human rights. Although it would have been possible for us to pursue a faster resolution to the war by using heavy artillery, we did not. Instead, we chose to pursue victory using light arms, though it resulted in thousands of war heroes sacrificing their lives.

"This strategy was pursued because of some 300,000 innocent Tamil civilians entrapped by the LTTE to be used as human shields during the final phases of the war. Rescuing them from danger was our primary aim. This is forgotten by those who seek to attack us on the topic of human rights. So too is the fact that more than 11,000 LTTE cadres were rehabilitated and reintegrated to society in the aftermath of the war," he said.
We chose to pursue victory using light arms, though it resulted in thousands of war heroes sacrificing their lives