---
Dubai drug bust:
7-member committee to monitor investigations carried out against suspects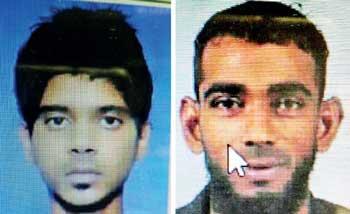 By Darshana Sanjeewa and T.K.G. Kapila
Two more individuals who were arrested in Dubai along with drug kingpin Makandure Madush were detained by the CID for questioning on their arrival at BIA last morning.
Police said the duo who arrived in flight UL-226 were identified as Mohommad Nazeem Mohammad Faizar (37), a resident of Maligawatta and Mohammad Mufar Mohammad Jabeer (30), a resident of Colombo 10. They said the suspects were deported from Dubai on Sunday night.

Altogether, 15 individuals including musician Nadeemal Perera, underworld figure Mohommad Najim Mohammad Imran alias Kanjipani Imran and actor Rayan Van Rooyan have hitherto arrived in the country, while notorious drug kingpin Makandure Madush, singer Amal Perera and 14 others still remain under custody in Dubai.

Following the deportation of individuals from Dubai custody, IGP Pujith Jayasundara has appointed a seven-member committee headed by CID SDIG Ravi Seneviratne to monitor investigations carried out against them.
Makandure Madush, Amal Perera and 14 others still under custody in Dubai