---
President has authority to obtain money from Consolidated Fund, subject to approval by new Parliament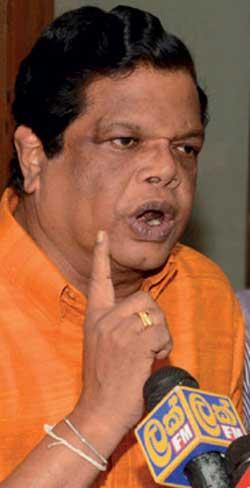 By Sandun A. Jayasekera
Cabinet spokesman and Minister Bandula Gunawardane responding to a request made by former Finance Minister Mangala Samaraweera to re convene Parliament to increase the government's credit limit, said the President did not have the power to do so.
"Once Parliament is dissolved, the President has the power under the Constitution, to obtain funds for financial requirements or financial obligations of the state only from the Consolidated Fund. Therefore, the issue of re-convening of Parliament does not arise," Minister Gunawardane said.

Minister Gunawardane admitted that funds have been allocated from the Vote on Account only up to April 30, but said if there was no Parliamentary approval for funds to run the state machinery, the President has the power to obtain money from the consolidated fund on condition of it being approved by the new Parliament after the elections.
The Minister said the President has the power to reconvene Parliament only in the event of an extreme national calamity or if and when the country faces a major threat of disaster. Mr. Samaraweera said the borrowing limit, approved by a resolution of Parliament on October 23, 2019 for the period January 1, 2020 to April 30, 2020, was Rs.721 billion. Last year, the Treasury issued Rs.194 billion in bills and bonds between April 3, 2019 and April 30, 2019. Therefore, it is almost certain that a breach of the borrowing limit is imminent. Once the borrowing limit is reached, there will be no legal authority under which public debt can be issued. As a result, the government may face insurmountable challenges in raising funds necessary for managing this crisis. Due to these legal complications, there may also be delays in drawing down the USD 128 million (Rs.24.4 billion) soft-loan granted by the World Bank for fighting COVID-19.