---
Defeat of expenditure heads of LGs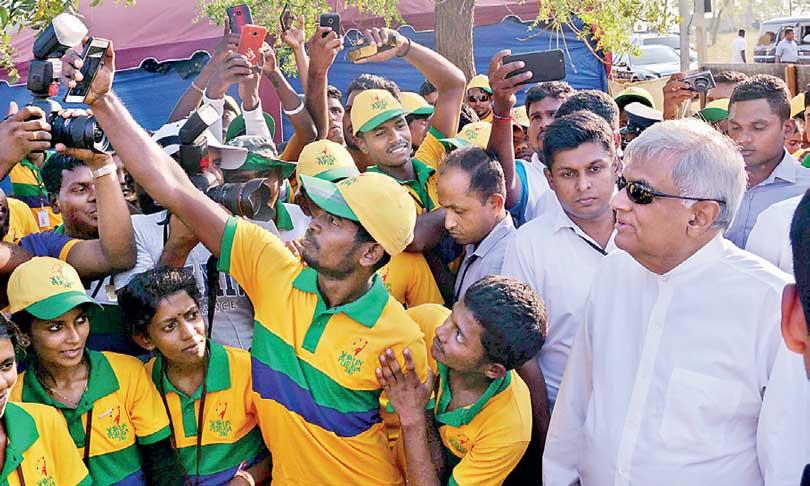 Prime Minister at Yowun Pura
Pic by Pradeep Pathirana
By Yohan Perera in Hambantota
Prime Minister Ranil Wickremesinghe said over the weekend that Local authorities and Provincial Councils will come to a standstill after April this year as a result of Opposition's action to defeat the expenditure heads of internal affairs local government and provincial councils ministry last Thursday.
Prime Minister Wickremesinghe sounded this warning at the foundation stone laying ceremony of the new sports complex in Weerawila on Saturday.
"We would have stopped releasing funds for the local authorities and PCs, as we don't control them. However, we decided to release funds for these institutions. What did the Opposition do? They defeated the expenditure heads of Local Government and Provincial Councils last Thursday in Parliament. Funds which we allocated for the local bodies and provincial councils were slashed by the Opposition," the Prime Minister said.

"There are no funds for the provincial councils and local bodies as a result of this act by the Opposition. It wasn't us who stopped funds. It was the Opposition. Don't expect any cent for the provincial councils and local bodies after April 30 this year. There are 12 Pradeshiya Sabhas in Hambantota and they will not get funds from April this year. We did not want the funds cut off from these institutions. We actually voted in favour of allocating monies for these institutions. I don't know what to do if the Opposition does not want funds for local bodies they control. Local authorities, and Provincial Councils will come to a standstill from April 30 this year" he added.

"Minister Sajith Premadasa frequently makes requests from the Cabinet to approve various projects in Hambantota. These are from the village level. We also focus on national level projects in Hambantota. We inaugurated some of these last week. There are some more projects in the pipeline. Some said nothing will happen about the oil refinery and the cement factory. We are discussing about these projects currently. Hambantota will become an international business centre. It will be a centre of economic development. This will happen for the first time after the Anuradhapura era. Anuradhapura was the centre of economic development in that era while South came the second. There are enough people to talk of Ruhuna in the area itself but there was no one to develop the area effectively" he also said.

"We decided to do two things in Ruhuna. One is the construction of sports complex in the international level and a youth centre for the district. Training will be given on various sports in the sports complex but I advise not to teach throwing chilli powder. Some people in this area are good at it.

Minister of Housing Construction and Cultural Affairs Sajith Premadasa said the present government's development policy is centred on the ordinary people. "We will not construct race tracks and come up with projects which will not benefit the village people but will engage in projects that will create real employment opportunities.," Mr. Premadasa said.
He said the new sports complex in Weerawila will comprise a swimming pool and an indoor sports training centre as well.
We actually voted in favour of allocating monies for these institutions. I don't know what to do if the Opposition does not want funds