---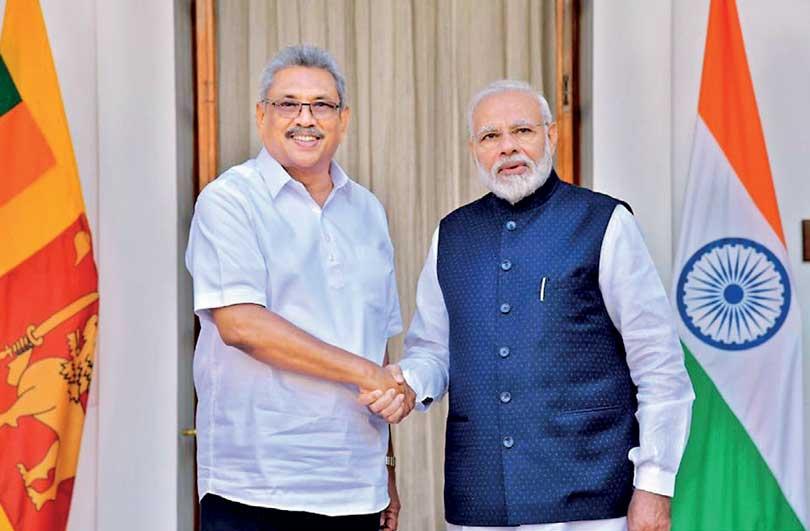 Mr. Modi said a strong and prosperous Sri Lanka is not only in the interest of India but of the entire Indian Ocean region.
We have had to re-think national security strategies. Assistance from India in this regard is most appreciated and Prime Minister Modi's assurances are most encouraging
By Lahiru Pothmulla
Indian Prime Minister Narendra Modi yesterday offered USD 50 million to enhance capabilities of the intelligence agencies in Sri Lanka and USD 400 million to boost Sri Lanka's development.
The Prime Minister made the announcement at a joint press briefing held in New Delhi, India along with visiting President Gotabaya Rajapaksa.
Speaking at the briefing, President Rajapaksa thanked Prime Minister Modi for his offer.
"Since the recent experience of Sri Lanka in April this year, we have had to re-think national security strategies. Assistance from India in this regard is most appreciated and Prime Minister Modi's assurances are most encouraging," he said.

He said bilateral discussions with the Indian PM were cordial and reassuring and the security of the two countries took priority during the discussions.
"India has always assisted Sri Lanka to enhance our capabilities in intelligence and counter-terrorism and we look forward to continued support in this regard. Whilst with India our cooperation is multifaceted with priority given to security related matters, with other countries initiatives for cooperation are by and large economic and commercial. We will continue to work closely with India to ensure that the Indian Ocean remains as a zone of peace," the President said.

He said the two leaders also discussed how India and Sri Lanka could work together in economically important matters.
"As India emerges to be among the world's growing economies I discussed with the PM how Sri Lanka could benefit from certain economic sectors where India is strongly positioned. I thank Prime Minister Modi for his positive responses to many of the initiatives I proposed to enhance Sri Lanka's economy and in particular, for offering 400 million USDs as a credit line to improve infrastructure and the economy. The Prime Minister and I, also discussed how India could assist us in trade between our two countries," he said.

President Rajapaksa said the fishermen issue was also discussed at length and steps would be taken to release boats of the Indian fishermen in Sri Lanka custody.
President Rajapaksa said he was happy to be in India since it is Sri Lanka's closest neighbour and long standing friend and invited the Indian Premier to visit Sri Lanka.
"I invite Premier Modi to visit Sri Lanka as the first head of government to visit the country since my election as the President of Sri Lanka," he said.
Meanwhile, Indian media reported Prime Minister Modi of having said that India gives priority to its relations with Sri Lanka under its 'Neighbourhood First' policy.
Announcing the USD 50 million line of credit to Sri Lanka to tackle terrorism, the Premier said India will fully cooperate with Sri Lanka's fight against terrorism.
Describing the meeting with Mr. Rajapaksa as fruitful, Mr. Modi said a strong and prosperous Sri Lanka is not only in the interest of India but of the entire Indian Ocean region. He assured India's help in the overall development of the country.

Earlier yesterday, Indian President Ram Nath Kovind and Prime Minister Narendra Modi greeted President Gotabaya Rajapaksa at the Rashtrapati Bhavan in New Delhi.
During the ceremonial welcome at the forecourt of Rashtrapati Bhavan, President Rajapaksa was accorded a 21-gun salute.
The President also paid respects to Mahatma Gandhi at his memorial and signed the Visitor's Book at Hyderabad House in New Delhi.
We have had to re-think national security strategies. Assistance from India in this regard is most appreciated and Prime Minister Modi's assurances are most encouraging