---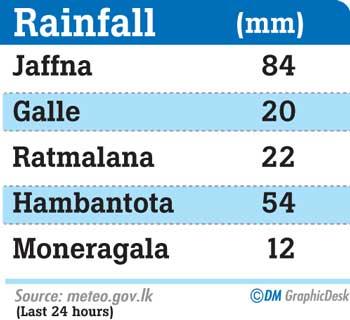 By Yohan Perera
The Disaster Management Centre (DMC) yesterday warned of heavy rains, which could exceed 100mm in the coming days.
The DMC citing the Department of Meteorology said showers exceeding 100mm could be expected in the Western, Sabaragamuwa, Southern and North-Western Provinces in the coming days.

DMC Spokesman Dr Pradeep Kodippili said there was a risk of landslides in several areas and people should be watchful for cracks in the soil, cracks in the walls of their houses and sprouts that come up suddenly.

He said people living along river banks in the mentioned areas should be watchful as well though there is no immediate risk of floods.

The DMC also warned of high winds in the sea around the country and asked members of the fishing communities to be watchful in this regard.

Several areas have received fairly heavy showers with Jaffna receiving a rainfall of nearly 100mm, while Hambantota receiving 53mm, Colombo and some places in Sabaragamuwa and the North-Western province have also received somewhat heavy rainfall yesterday.
He said people living along river banks in the mentioned areas should be watchful as well