---
Sri Lanka's trusted financial solutions provider, Multi Finance PLC (MFPLC) was honoured with the Award for Compliance at the recently concluded 53rd Annual Report Awards organised by the Institute of Chartered Accountants of Sri Lanka.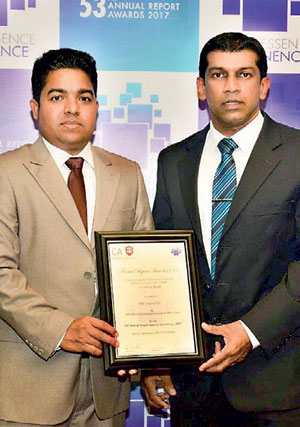 This is the company's third recognition award for going beyond statutory boundaries in financial reporting for compliance with legislative requirements and accepted accounting practices.
Winning the distinction from among 140 organisations including blue chip companies and conglomerates shows the emphasis MFPLC – a subsidiary of diversified conglomerate Fairway Holdings – places on compliance as a critical requirement in the success of the company. This follows the foresight and intuitive fore-planning of a well-established Board of Directors led by Chairman Kuvera de Zoysa.

"This award cements the fact that MFPLC has taken to heart its vision to be the first choice when it comes to financial solutions," stated Kuvera de Zoysa. "Anchoring on a legacy spanning over four decades of trusted financial solutions, a talented team of experts and a Board of Directors decorated with a cross-section of corporate experience, we are confident that this accolade will be a milestone in a journey that is to be filled only with more success."

MFPLC is a licensed Finance Company under the Central Bank of Sri Lanka, MFPLC was established back in 1974 as a limited liability company in Kandy, and re-registered under the 2007 Companies Act No.07 in 2009. It functions as a quoted company in the Colombo Stock Exchange.