---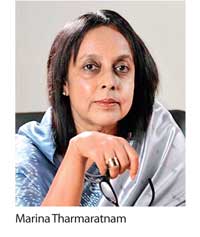 HNB General Insurance Limited (HNBGI), a fully-owned subsidiary of HNB Assurance PLC (HNBA), announced the appointment of Marina Tharmaratnam as an Independent Non-Executive Director to
the board.

Tharmaratnam is a Fellow Member of the Institute of Chartered Accountants of Sri Lanka. She holds a Postgraduate Diploma in Marketing from the Chartered Institute of Marketing, UK and a Diploma with Distinction in Computer Systems and Design from the National Institute of
Business Management.

Her career spans over four decades where she has held many senior positions in multiple industries ranging from banking and insurance to heavy machinery. Prior to her latest appointment, she served Union Assurance as its Director/CEO. She has held board positions in the capacity of Director at Singer Finance PLC, DFCC Vardhana Bank PLC, United Tractor & Equipment Limited, Eagle Insurance Company Limited and Eagle NDB Fund Management Co. Ltd. She was also Chairperson of World Vision Lanka. In addition, she was President of the Sri Lanka Institute of Directors in 2007 and 2008, Member of the National Council for Economic Development (NCED) for Capital Markets from 2004 to 2007 and has served on various committees of the Institute of Chartered Accountants of Sri Lanka.

HNBGI, which commenced business in January 2015, specializing in motor and non-motor insurance solutions, is presently one of the fastest growing insurance companies in Sri Lanka, with a network of 53 branches. HNBA, the parent company specializing in life business ranked within the Top 100 Brands and Top 100 companies in Sri Lanka by LMD, has won international awards for brand excellence, digital marketing and HR excellence and many awards for its annual reports at award ceremonies organised by the Institute of Chartered Accountants of Sri Lanka and South Asian Federation of Accountants (SAFA).

The board of directors of HNBGI now consists of Chairperson Rose Cooray and Dilshan Rodrigo, Thimal Perera, Faizal Salieh and
Marina Tharmaratnam.