---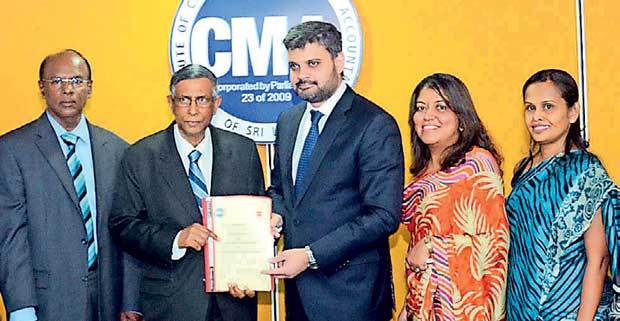 From left H.M Hennayake Bandara - Vice President CMA, Professor Lakshman R. Watawala - President CMA, Rehan Uddin - Head of Education for the MENASA Region ACCA, Nilusha Ranasinghe - Head of ACCA Sri Lanka, Dilani Perera – Business Relationship Manager ACCA Sri Lanka
A new agreement signed by The Association of Chartered Certified Accountants (ACCA) Sri Lanka and the Certified Management Accountants (CMA) Sri Lanka will see them work in partnership to develop the management accounting and finance professions in the country with special references to professional accountants in business and promote the highest standards of professionalism and ethics, with both organizations agreeing to co-operate in professional training, education, examinations and continuing professional development.
The MOU that was signed by the head of Education for the MENASA (Middle East, North America, South Asia) Region ACCA, Rehan Uddin and Head of ACCA Sri Lanka Nilusha Ranasinghe with Prof. Lakshman R. Watawala, President CMA Sri Lanka and H.M. Hennayake Bandara, Vice President CMA Sri Lanka will see ACCA and CMA working together on specific areas of cooperation. These include providing access to initiatives and services that support in attracting new finance and accounting talent, running joint events which are of mutual interest, sharing information that is mutually beneficial and working jointly to ensure on Continuing Professional Development (CPD) which is seen by both bodies as a key requirement of professional advancement in a dynamic and demanding business environment.
Additionally, the MOU will offer CMA students upon completion of the full course, to be entitled for exemptions from the fundamental level that includes up to first 9 subjects of the ACCA examinations as well as having the exemption fee being waived off. Additionally to the exemption fees ACCA will be giving a special discount from the initial registration fee as well.
CMA will provide exemptions to ACCA passed finalists and they will have to sit four (4) subjects at Strategic Level and the Integrative Case Study.
Prof. Lakshman R. Watawala, President CMA Sri Lanka stated 'CMA and ACCA are both members of the International Federations of Accountants (IFAC) have a great deal in common-we are both ambitious, forward-looking, global organizations.
CMA is a highly progressive association with quality at our core and a tie up with ACCA a global body will expand opportunities for employment, training and research, which makes our partnership providing an immense benefit to students. This MOU is a major development in international relations for both our organizations.'
Nilusha Ranasinghe, Head of ACCA Sri Lanka added "We are delighted to be working with CMA to enable more finance professionals to have access to qualifications and CPD which will equip them to guide businesses through the new developments, including global standards. The ultimate aim of our partnership is to develop the accountancy and finance profession in the country and build on strong foundations created by both bodies. ACCA is therefore excited by the potential of working with CMA, and we look forward to a long, happy and productive partnership."
In the wake of this MOU, ACCA Sri Lanka will work closely with CMA and work towards the development of the accountancy profession in the country and to offer a window of opportunity for locally qualified management accountants to gain better career prospects, by pursuing a globally recognized finance professional qualification.