---
Britain's new Prime Minister Theresa May (L) and her husband Philip John wave outside outside 10 Downing Street in central London on July 13, 2016, on the day she took office following the formal resignation of David Cameron (AFP Photo)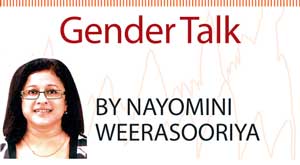 She has always cultivated a careful image as the dependable woman in a room full of men and in the end, it all paid off. Theresa May could crack the whip elegantly and stylishly – strong leadership skills that would determine the road ahead for Britain, in a post-Brexit world, would be defined by a woman at the helm.

So who really is this lady who otherwise would have had to wait at least until 2018 to have a shot at No 10, found things changed when David Cameron took a gamble on the whole Brexit thing. That's how life is – things change when you least expect it to. For Britain and for Theresa May, it could very well be the beginning of a new phase. It is comforting to know that the woman in charge at No 10 knows what she is doing – she has stayed on her course and has not departed from it for political gain.

For the naysayers, May might have to fill some large shoes left there by Margaret Thatcher, England's first female Prime Minister. But fill them she will – she has shown to her country and the world that she is indeed dependable. In a world full of political skulduggery, she has stood the test of time for the Tories and for her country. We can all agree that if the status of the world is anything to go by, someone somewhere must be called upon to take a stand. Too much of anything goes, everything goes or whatever I feel like goes, has resulted in an almost state of anarchy in the West. Unchecked refugees streaming into a Europe that barely can contain the flow, cultural differences that simply could not be overcome with multi-culturalism, too much of politically correctness, too much of a wrong focus on matters that are irrelevant in the big picture, allowing nationally insignificant groups to dictate terms to the majority have all been developments that make one feel one is treading on egg shells when it comes to everyday living. All of it relevant issues that seem to have dogged the democratic process in the West within today's unpredictable political scenario.

Theresa May walks into a quagmire of all of this and more – she has her job cut out for her but a woman who has shown unwavering, unflinching leadership skills can do the job. She has walked the talk and the fact that her party backed her all the way, affirms the fact. She has been known for her toughness but tough love is what the West needs, if the signs are anything to go by today.

Fashion in world of politics
May is also known for her introduction of high fashion into the world of politics. British media has focused on her trendy outfits, heels and her ability to stand equally at ease with the trendy set for years. They have scrutinized her shoes, her outfits and her makeup – she once said famously that if she could take anything to a desert island with her, it would be her copy of Vogue. Samantha Cameron was also known for her sense of style but the new occupant of No 10 will know exactly what colour to combine with kitten heels. That's the trouble when a woman takes the top spot – the clothes she wears, the high or the low heels and the brands she prefers will all be put under the microscope. There's no getting away from that. It can work for the good as well as for the bad.

In a recent media interview, the fact that she and her husband do not have children, was highlighted – she was being compared with yet another contender for the post – Andrea Leedsom, a mother and a conservative herself. Gender issues can fire up even the most powerful women and the fact that she was childless, it seemed, was being somehow used against her. And for a woman, it can be. You may not understand what it feels like to be a mother, the experiences that can enrich one's life as nothing else can. But there are other meters to gauge life too – loyalty, strength, commitment, empathy, unity and accountability. If anyone has stood by those values and proven that they work, it is Mrs. May.

But the threat is now past and Britain's most powerful woman smiled as she shone appropriately clad in a fashionable outfit, accompanied by her husband the First Man Philip May. The media out there couldn't help but note that Mr. May was also very fashionably dressed – it seemed the spouses at No 10 could not do less anymore, especially after Sam Cam left her mark.

First to offer congratulations to Mrs. May was the formidable Frau of Europe – Angela Merkel. The new Prime Minister also had a much highlighted audience with a woman who has been longest on the job and most graciously too – Her Majesty The Queen. And Mrs. May has had comparisons made – fashion wise – with Hillary Clinton, the Democratic candidate across the Pond. She has also been compared to the Duchess of Cambridge in developing a conservative but very elegant style of dressing. It seems suddenly that there are many women out there holding key positions in the world – something that makes me feel good and makes me think that there in itself we are sending a strong message to the girls out there. You can do it, girl.

(Nayomini Weerasooriya, a senior journalist, writer and a PR professional, can be contacted at nayominiweerasooriya@gmail.com)