---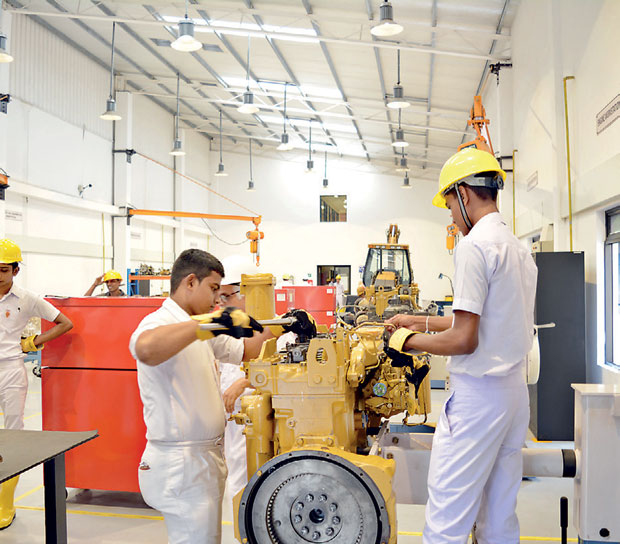 United Tractor and Equipment (Pvt) Ltd (UTE) decided to show Advanced Level students who aspire to be Automotive Engineers what it's like to be trained in the world class UTE-CAT state-of-the-art multi-million dollar training center.

The current G.C.E. Advanced Level curriculum offers 'Engineering Technology' as a subject stream covering areas such as the Principles of Civil, Mechanical and Electrical Technology and Training. However, students lack access to state-of-the-art facilities, equipment and tools necessary to experience and enhance their knowledge and understanding on the subject.

With the aim of providing students an opportunity to develop their technical skills and academic performance, and to enhance their future career prospects, UTE invites students for a full-day field visit at their Training Center.

The concept of offering free workshops for students at UTE's Training Center has devised UTE's Training unit. Initially, the programme was offered to schools in the Western province. However, UTE now welcomes applications from schools countrywide which offer 'Engineering Technology' as a subject to participate in this full-day programme.

The opportunity enables the students to gain hands-on experience on the practical aspects of engine systems, hydraulics, and more, creating awareness that skill in mechanical construction has the potential to generate an extremely successful future.

The UTE designed full-day training module covers a range of interesting topics including sessions on engine systems, introduction to electrical components, hydraulics and more. Students have access to UTE's Training Center and its sophisticated equipment such as Engine Workstations, a real Caterpillar Dozer, a Computer Room and Hydraulic Laboratory.

To-date a total of 150 students have attended the full-day workshop and benefitted from the superlative practical experience it provides.

"We understand students in the Engineering Technology stream lack access to sophisticated facilities to enhance their knowledge. Providing them the initial encouragement and experience of a well-equipped training center we believe will enable students to develop themselves and also contribute towards the nation in their future efforts," said UTE Chairman Prasan Fernando.

Subsequently, students who have completed their A/L examination can also enroll in the National Certificate in Construction Equipment Mechanic (ACCEM) programme conducted by UTE.

This programme is also recognized under the National Vocational Qualification (NVQ) Level-four in Sri Lanka presenting an ideal opportunity for youth to be transformed as true professional technicians.
It is noteworthy, that this is the only certificate course available in Sri Lanka for Construction Machinery with a NVQ Level-four qualification.