---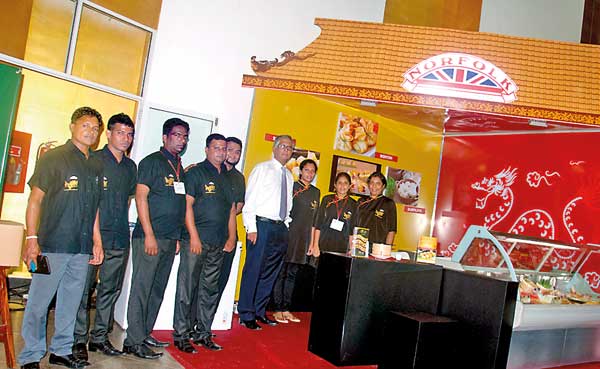 Norfolk Foods Pvt Ltd, the innovation centric contender in the Sri Lankan frozen food manufacturing arena is a trusted brand name both locally and internationally.

The company today, caters to large food franchises of international repute as well as to star class hotels and restaurants. High quality food items made to stringent standards have directly resulted in the unwavering reputation the company holds amongst its extensive clientele.

Continuing the legacy as a company that stands tall for its innovations in the food industry, Norfolk Foods Pvt Ltd has unveiled its latest offering; the all new Chinese range to the food connoisseurs of Sri Lanka. The formal launch took place at the exclusive culinary extravaganza; the 16th Edition of Culinary Arts - 2015 on 24th July at BMICH Colombo.

Culinary Arts 2015 is a culinary fair, an entertaining display of culinary skills of both veterans and novices to create best culinary masterpieces and share invaluable experience in the beauty and taste of experimental culinary art. As an annual gathering of the culinary enthusiasts, this year's event created a platform for national and international renowned chefs to share in their knowledge with each other. The presence of leading corporates in the hospitality trade, processed foods and packaging sectors also proved the event to be a comprehensive forum.

Norfolk Foods identified Culinary Arts 2015 to be the ideal ground to launch its scrumptious Chinese cuisine. Under the Chinese range, products such as Dumplings, Wontons and Shumais in Chicken, Seafood and vegetarian varieties were introduced. The range on display effortlessly attracted the many. Furthermore, the most coveted trophy for the Best Finger Food and Buffet Platter was presented by Norfolk Foods Pvt Ltd at the grand awards ceremony held on 27th July, under the patronage of Chefs Guild.

"We believe in innovations and it is the strong element what enables you to deliver beyond expectations. We at Norfolk Foods wish to launch our Chinese Range to retail market soon," concluded Mohamed Ziauddin, Managing Director – Norfolk Foods Pvt Ltd.