---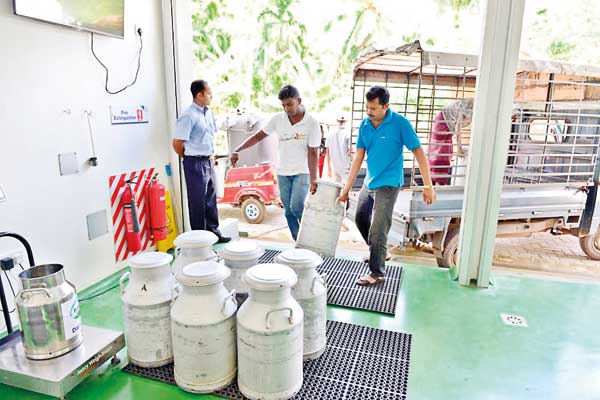 Fonterra Brands Sri Lanka continues to grow its local milk supply, achieving record collection in September with a 48 per cent increase on the same period last year.

Managing Director of Fonterra Brands Sri Lanka, Leon Clement, said the record follows five consecutive months of milk collection growth for the Co-operative and reflects the country's growing demand for fresh dairy products.

"Each year we process more and more milk which allows us to create a wide range of Anchor and Anchor Newdale products including UHT milk, flavoured milk, yoghurt, cream and curd," he said.

The growing consumption of dairy is driving this demand, as Sri Lankans look to fresh dairy products as another choice of high quality nutrition.

Clement said that it's fantastic to see the growth in demand for locally sourced milk, which in turnsupports the livelihoods of thousands of Sri Lankan farmer families.

"A key pillar of our strategy is to help grow the dairy industry in Sri Lanka, and the recent launch of Anchor Liquid Milk is one of the ways we're achieving this.
"Launching this new product means we will need to collect more high quality milk from more farmers, and to do this, we need a stronger Sri Lankan dairy industry.

"Since 1997 we've providedbest practice training and advice to thousands of farmer families through our farmer development programme, and we're currently growing our team of Supply Relationship Officers to increase the impact of our training and education programmes," said Clement.

While dairy consumption figures are growing, Sri Lankans still fall well short of the Government's recommended consumption of one to two servings of milk each day, with the current per capita daily consumption only half a glass.

"This nutrition deficit meansthere is scope for the liquid milk market to grow, and we're committed to help satisfy this future demand and play our role in meeting the nutritional needs of all Sri Lankans," said Clement.

R. Nishantha is a small-scale dairy farmer from Minuwangoda who has supplied Fonterra with milk since the opening of the local milk chilling centre in Gampaha last year.

"We are delighted to see the milk that comes from our own farms is processed to create a premium product under the Anchor brand, which is a much-loved household name for many Sri Lankans.

"Fonterra's supply relationship officers have worked with me since late last year to help increase my farm's productivity.

"They visit my farm regularly to help resolve any issues such as animal health and feeding them properly," R. Nishantha added.

Clement said that Fonterra is committed to helping farmers in the community just like R. Nishantha to grow their income and milk supply.