---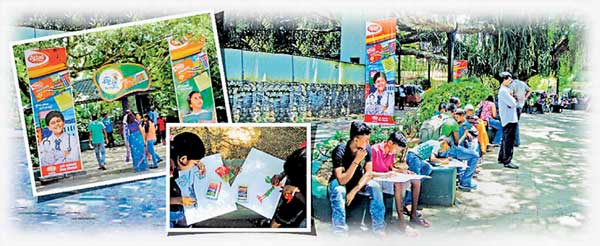 Atlas, the market leader in school stationery, in having at heart the mission of inspiring and inculcating creativity in children, concluded yet another engaging weeklong event for children and families that visited the National Zoological Gardens.
Titled 'SithRoo', the event at the National Zoo invited children of all ages who were visiting the zoo to capture their emotions and experiences at the Zoo with colour. The Atlas pastel brand, an all-time favourite in every household across the country, encouraged children to draw and colour their favourite moments at the zoo.

Understanding the psyche of children, Atlas is heavily invested in providing children with an outlet for their creative energies through the medium of drawing, painting, colouring, etc. The inspirational and therapeutic nature of art has been widely recognized and is regularly used as an effective form of emotional enrichment, as well as an important medium in developing fine motor skills, creativity and thinking power.

The few hours they engaged with the brand, was a revelation to the diverse stimuli and experiences children had even though they had all seen and walked through the same location together. This is also a startling point to take note of that each child is different and that each child brings in different perspectives to life and living. It is therefore a challenge to parents and teachers who spend the most time nurturing the next generation to give children the freedom to explore, experience and express, because there is always more than one right answer or more than one perspective in any situation.
A child who sees things different should be encouraged to do so rather than be cramped into following the same things the others are doing. It is a quality and a competency we must nurture in children to think laterally and to be comfortable to think out of the box.

The enthusiasm of the children was clearly demonstrated by the beautiful creations they produced, encompassing a wide range of talents, highlighting the unifying effects and universal appeal of art to children. Nurturing latent talent and developing the use of art as a therapeutic and fun mode of creativity, Atlas' contribution to enriching children's lives through events such as these is invaluable and appreciated by parents and children alike.
With ensuring the emotional growth and development of a child as one of its primary goals, Atlas is committed to providing children with every possible opportunity to explore experiment and express themselves through wide ranging and superior quality of products.