---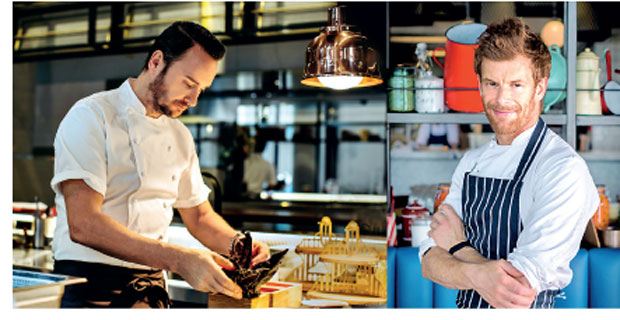 Ceylon Tea will get a makeover this August when Michelin Star Chefs Tom Aikins and Jason Atherton infuse their award-winning brand of cuisine with the best tea in the world at the first-ever Ceylon Tea Festival.

The chefs will host two separate banquets championing Ceylon Tea with some of the best ingredients from around the world.

Aikins will partner with the romance of Mount Lavina Hotel to present his tea-inspired banquet on Saturday, August 12, 2017. Tom is hailed as one of the most creative and talented chefs Britain has ever seen. He has ascended rapidly in his career, becoming the youngest chef to win two Michelin stars aged only 26 and building the expansive, international restaurant empire he operates today. His food continues to emphasise sustainable, high-quality ingredients executed with creative, technical flair.

He now has a number of restaurants over the world, including Tom's Kitchen in London, Pots Pans & Boards in Dubai and The Fat Pig in Hong Kong. He also has appeared on Channel 4's Iron Chef, Great Chefs of the World and Market Kitchen on the UK Good Food Channel.

Atherton will partner with Cinnamon Grand Colombo to woo guests with a Ceylon Tea-curated menu on Sunday, August 13, 2017.

Atherton is a three Michelin star chef and has been building his culinary empire since opening his first restaurant, Table No.1 in 2010. He has now accumulated a plethora of awards that celebrate his prowess in the kitchen at his numerous restaurants. His ethos follows well-sourced, fresh ingredients that are combined with technical accuracy to produce taste sensations. His restaurants vary from casual, comforting dining to fine-dining, Michelin star restaurants, all with wonderful success.

Atherton has built a global restaurant empire with restaurants in London, Shanghai, Hong Kong, New York, Dubai, Sydney and Cebu. His flagship restaurant 'Pollen Street Social' opened in April 2011 in Mayfair and was awarded a coveted Michelin star within just six months of opening. It has been awarded 5 AA Rosettes by the AA Guide, named The Good Food Guide's 'Best New Restaurant' and hailed the fourth best restaurant in the UK.

Atherton's recipes and articles have appeared widely in magazines and newspapers including: The Guardian, The Sunday Times, The Observer Food Monthly, Waitrose Food Illustrated, Caterer and Hotelkeeper. Additionally, he demonstrates regularly on food shows in the UK and abroad.
He is a regular guest on 'Saturday Kitchen' and in June 2008, Jason won the third hugely popular series of BBC2's 'Great British Menu', cooking both the starter and main courses at the 'Gherkin' building in London. In 2009 and 2010 Atherton returned to 'Great British Menu' as a host. He has also won 'Chef Award' at the Catey Awards 2012.

Both chefs have been working with Ceylon Tea in recent months in preparation for the two events in Sri Lanka.

Ceylon Tea Festival Co-Founder and Director Neela Marikkar said, "Tea for most is a beverage - hot, cold, with milk, lemon, honey and a myriad of other combinations. But when Michelin starred chefs are involved, we can take Ceylon Tea to a whole new level. We hope the Ceylon Tea Festival and the involvement of both Tom and Jason will inspire more chefs here and abroad to experiment with tea and bring a whole new dimension to this world-class ingredient."

The two banquets are part of the three-day Ceylon Tea Festival, which will provide a range of free and ticketed events, spanning culinary demonstrations, workshops, pop-up galleries, food forums, markets, food tours, tea tastings, film screenings and much more for tea and culinary enthusiasts.
The festival also brings together the Sri Lanka Tea Board, the Colombo Tea Traders' Association and Sri Lanka Tourism for the first time in organising a public festival locally. The annual festival is expected to be a highlight in local and international calendars and the organisers will look to create similar festivals outside Colombo and eventually in key markets overseas.

The full programme is now available via the Ceylon Tea Festival website at ceylonteafestival.com. Tickets for selected events will also be available on the site and other locations to be announced shortly.