---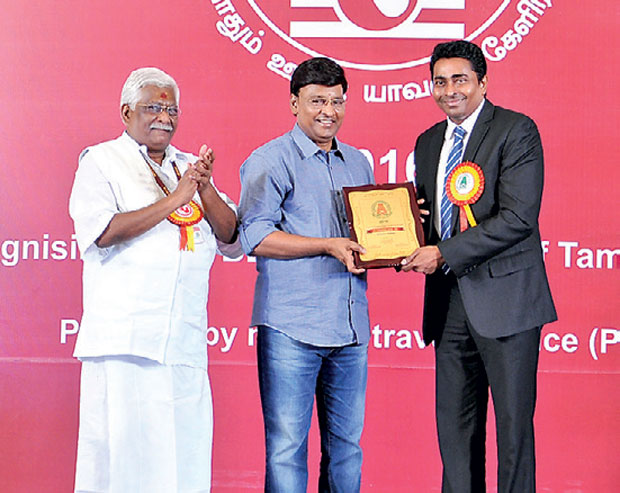 SriLankan Airlines added yet another international accolade to its impressive collection when it received the 'Best International Airline - Asia' award at the second annual Tamil Nadu Tourism Awards, the largest tourism awards event in the state of Tamil Nadu.
This is the second successive year that SriLankan won a major accolade at the Tamil Nadu Tourism Awards, having won last year in the category of Best International Airline.
SriLankan has won a host of accolades in recent months including 'World's Leading Airline Operating to the Indian Ocean Region' at the World Travel Awards; 'Best Full Service Airline in Central and South Asia' for the second consecutive year at the Future Travel Experience Asia Awards; 'Most Innovative Marketing Airline in China' by Life Weekly magazine; and 'Best Airline in South Asia' at the Top Travel Awards, also in China. SriLankan now operates the largest network of any foreign airline operating in India with over 100 flights to 11 cities and is also the largest international airline serving the Maldives, with 25 flights per week. SriLankan's global network covers 100 cities in 47 countries and as a member of the oneworld global airline alliance it also connects its passengers to oneworld's worldwide network of more than 1,000 destinations in 160 countries.
The Tamil Nadu Tourism Awards is an annual event organised by tourist guidebook producer Madura Welcome and supported by the Ministry of Tourism of the Government of India. Among the other notable international winners were Thai Airways which won the award for Best International Airline – Pacific and Oman Air which received the award for Best International Airline – Middle East.
The Tamil Nadu Tourism Awards are aimed at popularizing Tamil Nadu Tourism around the world; recognizing the major players in the Tamil Nadu tourism industry; encouraging higher standards and recognizing exceptional efforts in the industry; stimulating the spirit of competition within the travel and hospitality industries in order to reach higher levels of brilliance while motivating cooperation and teamwork amongst the industry's various segments; and encouraging the development of value packages to better provide end users with regional value added services.
More than 100 awards were distributed at the ceremony on 24th March 2017. Categories include airlines, airports, hotels, resorts, niche resorts, serviced apartments, tour operators, travel agents, travel promoters, transport providers, online tourism marketers, travel insurance companies, travel writers, harbours, convention centres, restaurants, tourism training institutes,
theme parks, etc.