---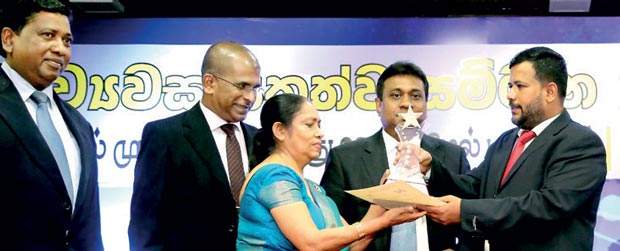 Industry and Commerce Minister Rishad Bathiudeen (far right) hands over Best Western Provincial Entrepreneur 2017 award to Sethma Hospitals Chairperson Y.M. Sudumenike in the presence of Sethma Hospitals Managing Director Dr. D.C.S. Jayasuriya (far left) a Sethma Hospitals executive (second from left) and National Chamber of Commerce President Sujeeve Samaraweera (second from right)
A private hospital not aiming to be a commercial operation but to be a committed caregiver for the sick and run by a retired Lankan schoolteacher clinched the 'Best Western Provincial Entrepreneur of Sri Lanka', at the Western Provincial Entrepreneur Awards held this week.

The top award was won by Sethma Hospital (Pvt.) Limited in Gampaha—a 35-bed, medium-scale private hospital.

The award ceremony, which recognized the country's micro, small and medium-sized entrepreneurs (MSME), was jointly organised by the National Chamber of Commerce of Sri Lanka and National Enterprise Development Authority.
As the second awards festival to be held in this annual series, it featured awards for Lankan MSME entrepreneurs in many categories including agriculture, livestock, fisheries, manufacturing, tourism and hospitality.

Sethma Hospital is chaired by Y.M. Sudumenike, a retired teacher of Sri Lanka's Education Department. Apart from chairing the board, she also actively monitors the hospital's accounts.
At a personal investment of US $ 870,000 by her husband Dr. D.C.S. Jayasuriya (MBBS-Sri Lanka), who continues to be a doctor with the state sector, Sethma Hospital began operations in 2006 in Gampaha.

Today it is a sprawling US $ 1.6 million, medium-scale private hospital approved by Sri Lanka Health Ministry with all preliminary care facilities, reporting the largest market share in the Gampaha District.
The hospital also clinched the 2017 award for employing most number of women by an MSME.