---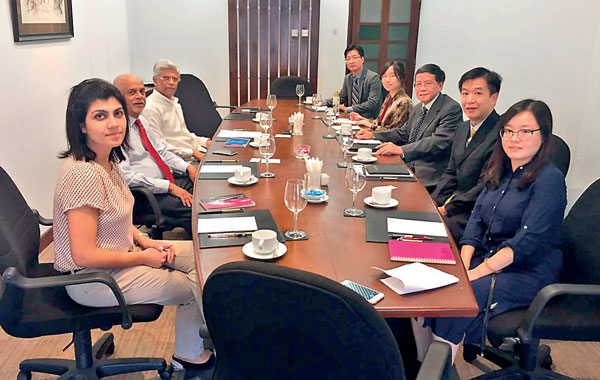 Communist Party of China delegates with the Pathfinder Foundation officials
A visiting delegation representing the Communist Party of China (CPC) met with the officials of the Pathfinder Foundation with a view to discussing the current issues of mutual interest to both institutions.

CPC International Department Counsellor Senior Researcher Dr. Chai Shangjin led the Chinese delegation. He was accompanied by Research Division Director Strategy Dr. Wang Liyong, CPC International Department Central Committee Assistant Secretaries Yu Kaixi and Fu Chun and Meng Bin of the Chinese Embassy in Colombo.

During the course of the discussion, both sides focused on the current situation in the South Asian region, One Belt One Road initiative promoted by Chinese President Xi Jinping and how that initiative would positively impact on economies of the participating countries, presence of major maritime users in and peaceful use of the Indian Ocean, role of the Asian Infrastructure Investment Bank (AIIB) in promoting infrastructure development of the member countries, etc. Frank exchange of views facilitated both sides to better understand as well as appreciate the prevailing ground situation. The two sides agreed to interact with each other through a formal arrangement, which would facilitate exchange of professionals and undertake joint studies on subjects of mutual interest. The two institutions also expressed their willingness to take their relationship to a higher level.
The Pathfinder Foundation was represented by Chairman Bernard Goonetilleke, Executive Director Luxman Siriwardena and Project Manager Ameera Arooz.