---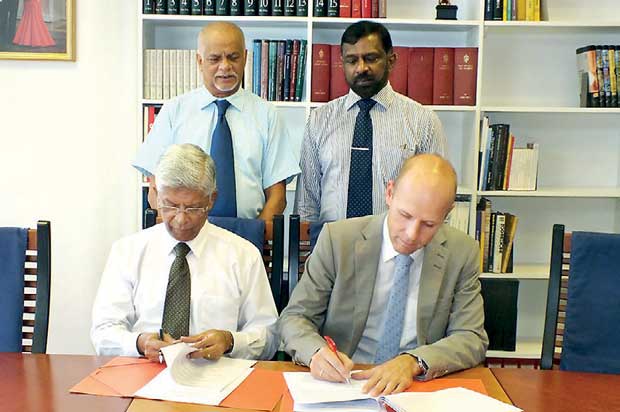 The agreement being signed by Knut Nyfløt, Chargé d'affaires of the Norwegian Embassy and Bernard Goonetilleke, Chairman of the PF. Admiral (Rted.) Dr. Jayanath Colombage, Director, Centre for Indo-Lanka Initiatives and Luxman Siriwardena, Executive Director, PF also at the event
The Royal Norwegian Embassy in Colombo and the Pathfinder Foundation (PF) signed an agreement for providing a grant to the 'Centre for Indo-Lanka Initiatives' (CILI) functioning under Pathfinder Foundation.

The agreement was signed by Knut Nyfløt, Chargé d'affaires of the Norwegian Embassy and Bernard Goonetilleke, Chairman of the Pathfinder Foundation.

Indian High Commissioner, Y. K. Sinha and Founder of PF, Milinda Moragoda inaugurated the Centre in December last year. Priority of the Centre would be to improve political, economic, security and people to people relations between India and Sri Lanka. In 2012, Pathfinder Foundation in association with Manipal Global Education engaged in a study of Indo-Lanka relations.

The Norwegian support to the Centre will help to enhance and expand this study further and PF plans to hold a series of seminars in Sri Lanka and India, partnering with the Vivekananda International Foundation (VIF), based in New Delhi.

The PF will also work in association with the Institute of Defence Studies and Analysis (IDSA) and the United Services Institute (USI) based in New Delhi.

Admiral(Rted.) Dr. Jayanath Colombage, Director, Centre for Indo-Lanka Initiatives, Luxman Siriwardena, Executive Director, Pathfinder Foundation were associated with event.