---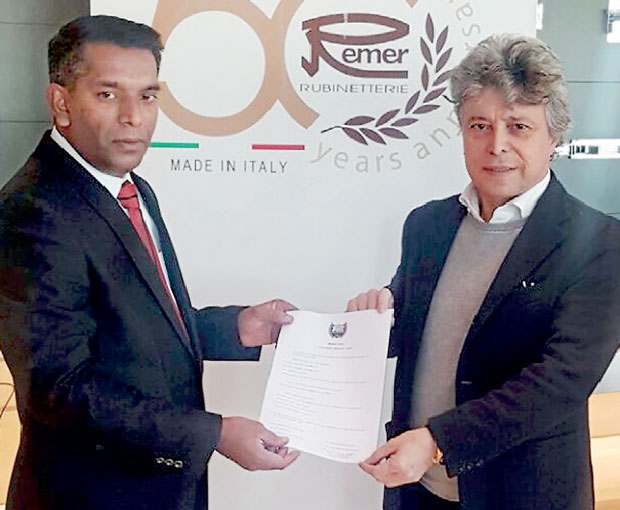 Elevating bathroom designs with style and practicality offering an exciting, trend-setting Faucet and Minutery range, Remer Rubinetterie Spa has named Invo Lanka International (Pvt) Ltd., as the exclusive local agent for its family of products.
With a rich history of over five decades, Remer Rubinetterie is Italy's leading manufacturer of faucets and plumbing minutery. Manufacturing all its products at state-of-the-art factories in Italy, Remer uses high quality materials and the most advanced technologies offering the ultimate in comfort, safety and relaxation.
Remer Products are distributed in 130 countries globally through its channel partners showcasing 100% 'Made in Italy' designs which are set to transform local bathroom designs with its exciting range.
"We're extremely pleased to appoint Invo Lanka as our sales partner in Sri Lanka. Our association with Invo provides us a very solid footing in the market, and I'm confident that our partnership will be valuable for all concerned," said Antonio Repici, Chairman – Remer.
Invo Lanka International (Pvt) Ltd's parent company, Ceramic Homes International Group, was established in the country over 20 years ago. While Invo is a fledgling two-year old company it accounts for an impressive portfolio including the mantle of Exclusive Sri Lankan Agents for other world reputed sanitary fittings manufacturers such as 'Goman', 'TPH', 'KDK' and 'Britain'.
"Italy's Rubinetterie Remer is at the forefront of design innovation for the luxury bath market. Having built its reputation on high quality world renowned cutting edge design, we are thrilled that they have chosen Invo Lanka to expand their local presence. Remer faucets and minutery perfectly matches our product range and philosophy and in today's demanding market, we strive to offer solutions that exceed our customers' expectations," said M. M. M. Naleem, Managing Director -Invo Lanka.
Catering to a diverse range of customers, Invo Lanka markets the Remer range through three sales divisions; an impressive Dealer Network accounting for over 100 dealers island-wide, a Project Sales Division with an experienced team of executives who serve all small and large apartment and commercial projects, hotels etc., and the Retail Sales Division which coordinates the supply of Remer products among the seven Ceramic Homes showrooms.
Additional the Remer product range can be sourced through Invo Lanka's own head office and design center located in Colombo.All Remer products provide a 10-year manufacturer's warranty.
In testament to its high quality and elegance, several significant local projects have installed the Remer range. These include hotels, apartment complexes and public sector buildings.