---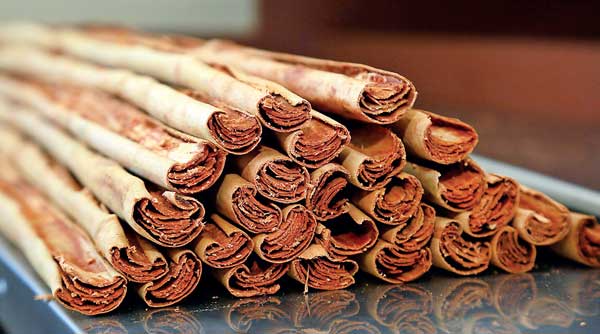 Historically, Ceylon cinnamon has been one of the most precious export items since early evolution of spice trade in the world. There are records of trade in Ceylon cinnamon as far back as ancient Egyptian, Babylonian, Arabian, Venice, Greek and Roman times. But, the source of cinnamon was kept as a secret form the Mediterranean and Western world for centuries by the Arabs who controlled cinnamon trade to protect their monopoly. At one time, cinnamon was considered more valuable than gold. In fact, it was the quest for spices that led to exploration of the world in the 15th century and cinnamon was the most important spice that attracted the Westerners to Ceylon.

Botanical name of cinnamon and country of origin
The island of Sri Lanka had been known by several different names such as Lanka Lankadeepa, Tambapanni, Taprobane, Sinhale, Sihaladeepa, Serendib, Salike, Saheelan, Zeylan, Seylan and Ceylon during its long history of over 2,500 years to foreign traders and travellers who came to the country. The name Europeans referred to Ceylon as Zeylan, is derived from the Arabic word 'Saheelan' a corrupt form of the word 'sainhalam' used for cinnamon.

Cinnamon from the country of the Sinhala is synonymous with Ceylon as it is indigenous to Sri Lanka. Even at present some nations use the country name Ceylon as a qualifying word to identify cinnamon coming from Ceylon. In the botanical name of cinnamon (Cinnamomum zeylanicum) species epithet is derived from, the name of the country- 'Ceylon'. It is the botanical name used in the standard (ISO 6539:2014) for cinnamon by the International Standards Organisation and also the H.S. Code for cinnamon allocated by the World Customs Organisation.

World's leading supplier of cinnamon
Sri Lanka has been the world's leading supplier of cinnamon for decades, accounting for 85 percent- 90 percent of global market share and is the country's third largest agricultural export product. Compared to the hard, dark brown, rough in appearance, pungent and curl inward from both sides toward the centre Cassia cinnamon - the most common cheaper cinnamon available in the international market - Ceylon cinnamon has a soft appearance, sweet, light brown colour and can be rolled like a cigar.

It is finer, softer and more aromatic in flavour. Moreover, it is considered to be healthier because it contains only a trace, about 0.004 percent of coumarin, an organic chemical compound contained in all types of cinnamon, which is believed to have toxic effects when consumed in high doses. Therefore, due to its purity, Ceylon cinnamon is hailed as 'true' cinnamon by consumers
around the world.

Branding of Pure Ceylon Cinnamon
Branding of Pure Ceylon Cinnamon and promoting it as a global brand in target markets was very important to highlight the main characteristics of the Ceylon cinnamon and differentiate the cinnamon from cassia to gain the comparative advantage. Accordingly Ceylon cinnamon has been introduced to the international market as a branded product, namely, 'Pure Ceylon Cinnamon'. The Ceylon cinnamon brand promotion programme was launched by the Sri Lanka Export Development Board to differentiate 'Ceylon cinnamon' from Cassia and other low-quality substitutes in the international market.

Challenges to growth
However, over the past decades, international demand for cinnamon from Sri Lanka has gradually diminished and one of the key reasons is local producers' failure to comply with international food safety regulations and hygienic standards. Sri Lanka has occasionally faced problems with improperly fumigated cinnamon consignments exported to the EU due to high levels of residual sulphur dioxide (SO2). Failure to meet quality standards and necessary sanitary and phytosanitary (SPS) measures could pose a risk of losing international market share.

In addition, the domestic spice industry faces an acute labour shortage and social stigma attached to the vocation of cinnamon peeling, industry finds it hard to attract youth. A lack of trained labour force is also hampering the industry's productivity. The Spices and Allied Products Producers' and Traders' Association (SAPPTA) suggests that Sri Lanka can achieve the one billion US dollar mark in spices and related items sector, if the government were to release unutilized and barren land to enable farmers to grow spices and allied products in order
to increase production.

Urgent policies are needed to enforce value addition such as exporting organic cinnamon and value-added cinnamon products, thereby gaining access to niche markets in Europe, Japan and the USA. Expanding land area under cultivation and improving facilities and remuneration for the industry workforce are other vital needs.

Countering challenges
In an effort to revitalize Sri Lanka's Ceylon cinnamon position on the global market, United Nations Industrial Development Organisation (UNIDO) and the Standards and Trade Development Facility(STDF) of the World Trade Organisation have been working together with the country's the Spice Council (TSC), Ceylon Cinnamon Association (CCA) and Cinnamon Training Academy (CTA) that represents private and public stakeholders in the cinnamon industry, to implement a project that helps to improve the trade competitiveness of cinnamon.

Within the framework of the project, a National Vocational Qualification (NVQ) training framework accredited through Tertiary and Vocational Education Commission (TVEC) was created for cinnamon field and factory operations. The project also focuses on promoting internationally acceptable hygienic standards, internationally recognized food safety certifications and to promote best practices in food safety, a pilot good manufacturing practices (GMP) processing centres certification was introduced for the cinnamon industry. The removal of the export cess on spices and allied products in the 2016 budget will help the sector further. Sri Lanka can increase its global market share by leaps and bounds if it is to rectify the ills dogging the
cinnamon industry.