---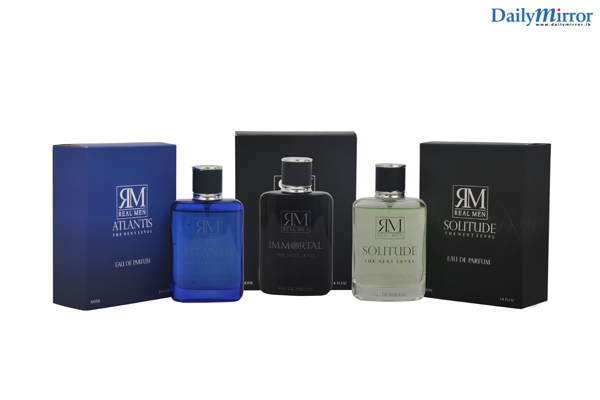 Hameedia, Sri Lanka's leading menswear specialist recently introduced Real Men, a perfume line comprising three unique scents. The middle uppernew line, which will be available at Hameedia outlets island-wide, features Solitude, a strong, bold and refreshing scent, Atlantis, a perfume created to inspire freedom and an element of mystery in men and Immortal, a fragrance that exudes timeless elegance and allure.
The three distinctive fragrances offered by the Real Men collection will bring out the true personality of gentlemen of stature, whilst enhancing their aura and confidence. All Real Men perfumes are formulated by the best nose in France, an industry-leader in the fragrance development and perfume industry. All three fragrances, with their mild yet long lasting scent, are ideal for men who are constantly on the move, and offer the perfect finishing touch for casual and official outfits for every occasion. Real Men Solitude, the bolder and more virile fragrance of the range is a fresh blend of woody notes and is best suited for men who want to make a strong and confident fashion statement and enhance their look. Combining subtle woody undertones with an intriguing spicy element, Real Men Atlantis brings out a man's freedom and adventurous streak, and is ideal for evening occasions and day time wear. The third fragrance in the line, Real Men Immortal is a blend of sensual notes that exude luxury and it is the perfect scent for special occasions and functions.The Real Men perfume has an oil concentration of 15-20% (EDP) which is better than many fragrances in the current Market.Each fragrance developed by Hameedia, is created using standards that are on par with world-renowned fragrance brands.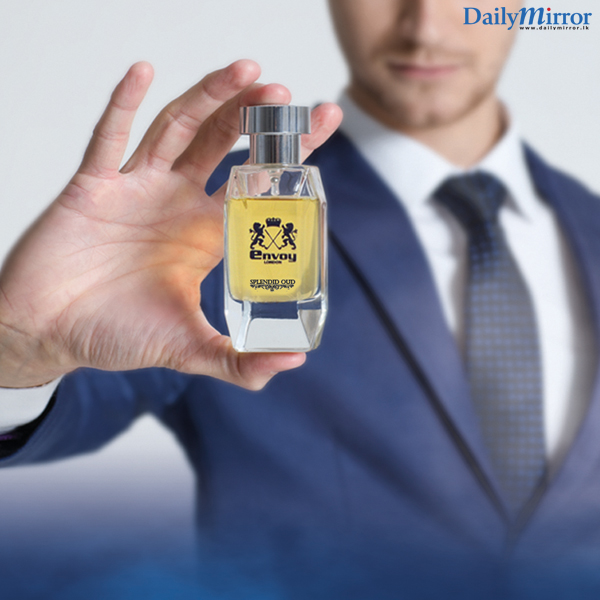 Hameedia alsooffers Splendid Oud, the Envoy London's premium fragrance that caters to the luxury market. The perfume is a prestigious and authentic blend formulated to complete the overall looks of high profile gentlemen in the business, sporting and celebrity arenas. Handcrafted in a traditional manner with the use of exceptional raw materials,the Splendid Oud has an oil concentration of 20-30% which is an optimal universal standard for quality perfume which is adhered to by a few renowned international brands. This deluxe fragrance is inspired by haute couture fashion for men, and is targeted exclusively at men who are seeking an optimum form of luxury from their fragrance
Hameedia, the island's premier menswear specialist has a track record for introducing
trend-setting fashion statements for the fashion-conscious gentlemen in the country. At Hameedia, a complete men's fashion solution can be found under one roof amongst the company's exclusive brands for gentlemen from all walks of life.
Commenting on Hameedia's newest range of perfume line, Fouzul Hameed – Managing Director – Hameedia stated: 'We are pleased to introduce this new, world-class range of perfumes to our valued customers. Scent is extraordinarily important in telling people who you are and what you're made of, and the fragrance we wear speaks volumes about our personality and inner essence. The Real Men range by Hameedia offers men three exclusive and prestigious fragrances that truly enhance a man's attire and deliver an overall sense of refinement and sophistication. Manufactured on par with best-in-class global standards, this range of perfumes allows men to make a bold statement with their clothing, whether they are at work, at a function or running errands on the go."
Established in 1949, Hameedia has grown to become a pioneer in the Sri Lankan fashion industry. The fashion store is renowned for delivering high-quality custom tailoring under the bespoke and Made to Measure category and ready-made clothes for gentlemen. The Hameedia, multi-brand retail stores house a collection of quality menswear brands such as Le Bond, Envoy, Signature, Raymond, Lee and Adidas to name a few. Hameedia also prides itself on offering outstanding standards of service to ensure that all clients enjoy a shopping experience that is positive and personalized. With a network of over 30 outlets across Sri Lanka and a large and experienced team, Hameedia has a strong local presence and has also extended its operations to the global fashion industry with outlets in the Maldives and Australia.