---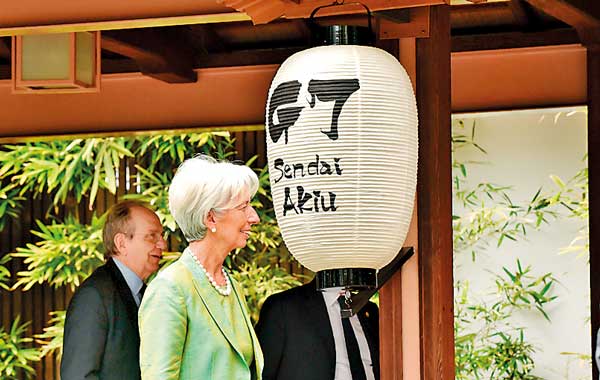 International Monetary Fund (IMF) Managing Director Christine Lagarde (C) walks past a lantern at a photo session of the G7 Finance Ministers and Central Bank Governors' Meeting in the hot spring town in Sendai yesterday
AFP - Divisions over reigniting global growth were set to surface at the G7 in Japan yesterday, with US Treasury Secretary Jacob Lew expected to stand firm over any action threatening a currency war.

Two days of talks will see host Japan keen to win an endorsement for its position that fiscal stimulus is the way to kickstart the world economy, after a rally in the yen hit exporters and worsened a slowdown at home.
But Tokyo's recent threat of a market intervention to reverse the rally could put it on a collision course with its G7 counterparts, including the United States and Germany which have ruled out such moves.

As well as Lew, who is joined at the high-level meetings by Federal Reserve chief Janet Yellen, French Finance Minister Michel Sapin has also waved off the idea of countries gaining a trade advantage by manipulating their own currencies.

"Today we are in a cooperation phase, and not in an intervention or a currency war phase," he told AFP. The G7 group -- also including Britain, Canada, and Italy -- will try to hammer out a strategy for keeping a global recession at bay.
In April, the International Monetary Fund cut its forecast for world growth for the third time in less than a year, as a slowdown in China and other emerging economies raised fears that the worst was yet to come.