---
Diamond International Lanka (Pvt.) Ltd, a leading specialist in supplying a diverse range of security seals, tamper – free and tamper – evident security seals and materials, has expanded its product selection to include a variety of foil sealants as well.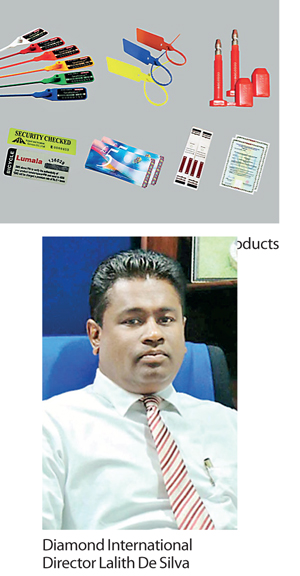 Since 2007, Diamond has been delivering high-performance seals and related components to a wide range of industries.
Wesglow seals are a low-cost, highly effective way to secure shipments, equipment, facilities and other areas of your operation, which require a chain of custody or assurance of physical security. 'Gemseal' fixed length seals have a single locking position that insure when the seal is broken, it cannot be reapplied. These types of seals are ideal for trailers, containers, fuel and oil tankers, lockers, etc.
Its range of seals include – 'Securelite' variable length seals for food trolleys, fire extinguishers and those situations where equipment size and style may vary, requiring an indicative seal that can be pulled tightly to ensure security, yet can be used on different types of locking mechanisms; 'Skyseal' variable length - for food trolleys, automated cash dispensers, cash boxes, fuel and oil tankers and chemical drums; 'Slickseal' and 'Troseal' variable length seals - for postal bags, courier bags, cash bags, fuel and oil tankers; 'Tovseal' barrier seals - for trailers, cargo containers and rail freight.
Diamond has over the years carved a name for itself as an integrated security solution provider. With the progress of developing its business into the new millennium, millions of security labels have been delivered to meet the ever growing demand for the need to protect the brand assets against counterfeit, forgery, copyright and patented products of many government and private sector organisations.
Diamond as the sole agent in Sri Lanka for Holographic Asia Labels, is proud to be in partnership with a corporate that has managed to constantly research for innovative solutions using the latest state-of-the-art technology in printing of Holographic labels with integration of optical variable device (OVD) and cleverly integrating security Ink (SI) technology for better security control against piracy. As the leader in providing security printing solutions, it has combined OVD, SI, Scratch Off Foil (SOF), security random code and security online authentication technology to provide clients with more options to protect their brands and profits.
To meet all needs and challenges, a diverse range of quality products are in offer namely, security holographic labels, security vouchers, security wristbands, security SMS and wins, security scratch and wins, security car stickers, security seals, security fabric labels, security patented hot stamping foil, security microseal coupled with top-notch service to customers by a highly skilled team possessing industry-specific knowledge and experience.
Diamond can attribute its success largely to the organisations relentless emphasis on protecting customers' products and its profits and more importantly, help prevent consumers from being cheated by counterfeits and their imitation products, armed with a vast experience that spans over many decades.