---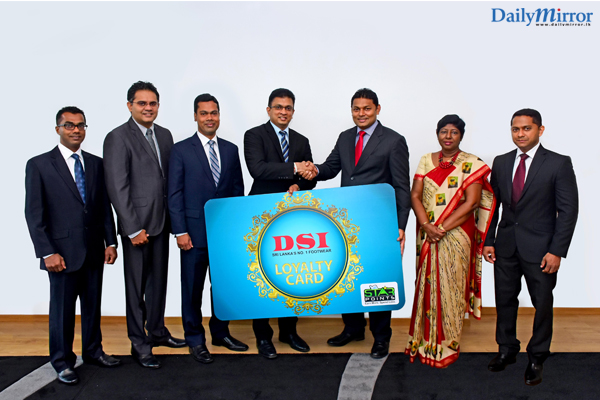 Chandana Paththinige -Manager - New Business Development, Dialog Axiata PLC, Chinthana Jayasekara - Head of Group Business Development, New Business Development, Dialog Axiata PLC, Asanga Priyadarshana - Head of Business - Mobile Telecommunications, Dialog Axiata PLC, SupunWeerasinghe - Director / Group Chief Executive, Dialog Axiata PLC, Thusitha Rajapaksa – Managing Director, D.Samson& Sons (Pvt)Ltd, Kaushalya Perera - Director, D.Samson& Sons (Pvt)Ltd, Upendra Gunawardhana – Senior Manager – Marketing, D.Samson& Sons (Pvt)Ltd
DSI recently announced the re-launch of their loyalty program with Star Points. The objective of the program being to offer customers a one-of-a-kind lifestyle 'loyalty' experience.

The loyalty program will offer members a vast range ofbenefits and discounts throughout the year, while giving them the opportunity to earn and burn 'Star Points' at DSI Showrooms island wide using the Star Points platform. Members may register for the loyalty program at any of the DSI showrooms across the island. A point worth Rs. 1 will be awarded for every Rs. 100 spent at any DSI showroom. The program also allows members to earn and burn their 'Star Points' through other Star Points partner merchants as well.

"Being a customer-centric organization, we at D. Samson & Sons (Pvt) Ltd value our customers above all else, therefore the partnership with Star Points is very important to us as it provides us with the opportunity to provide our consumers who are loyal members with a number of benefits and handsome discounts", stated Mr. Thusitha Rajapaksa, the Managing Director of D. Samson & Sons (Pvt) Ltd.

"We are delighted to partner with DSI, one of country's most popular and largest retail networks, on the launch of their new Star Points based loyalty program. DSI customers will receive a host of exclusive promotions and unbelievable discounts under this loyalty program. They will also be able to earn and redeem loyalty points at over 200 DSI Showrooms and across the nation's largest loyalty networks - Star Points," said Mr. Supun Weerasinghe, the Group Chief Executive Officer (CEO), Dialog Axiata. "With a growing number of the brands joining the Star Points network, we look forward to providing our Sri Lankan consumers with greater benefits and privileges on more of their day to day purchases."

Star Points is the first and largest mobile-based loyalty network in the country. All Star Points customers can earn Points, which are redeemable at a large partner merchant networks across the island. The Star Points network consists of over 400 partner merchants with more than 20,000 partner-outlets island wide. They cover a variety of multiple retail sectors expanding to household-items, electronics, grocery, footwear and clothing chains, food and beverage, cosmetics, healthcare, domestic and international travel.

As the main marketing and distribution sector of the DSI Samson Group, D. Samson & Sons (Pvt) Ltd is one of the largest retail networks in the country, providing footwear, accessories and apparel to thelocal customer. The organization is the sole distributor of local footwear brands; DSI, Ranpa, Samsons, Jessica, Waves, Beat, Supersport and AVI whilst also distributing popular international brands such as Reebok, Puma, Fila, Clarks, Florsheim, Redtape, Arrow, U. S. Polo, W and Aurelia . The network of the organization spans more than 200 company outlets and 4000 dealers and 39 sales representatives island wide.