---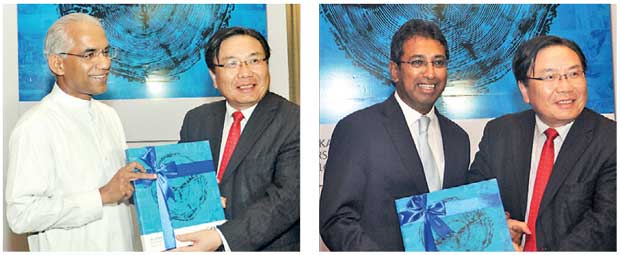 Wencai Zhang presenting the coffee table book to State Finance Minister Eran Wickramaratne and National Policies and Economic Affairs Deputy Minister Dr. Harsha de Silva
The Asian Development Bank (ADB) this week launched a coffee table book to celebrate the 50-year partnership between the development partner and Sri Lanka.

Titled 'Sri Lanka-ADB Partnership 1966-2016,' the book was launched at the Water's Edge in the presence of Finance State Minister Eran Wickramaratne, National Policies and Economic Affairs Deputy Minister Dr. Harsha de Silva, top bureaucrats and ADB officers. "As you browse through this book, you notice how ADB's assistance has evolved over time to become what it is today," ADB Operations 1 Vice President Wencai Zhang said during the book launch.

The book displays select ADB projects in Sri Lanka over the past five decades.

Wickramaratne noted that ADB has provided assistance through over 100 projects in the form of grants, loans and technical assistance.

"These projects have major contributions. The key sectors in the Sri Lankan economy include education, finance, infrastructure and the environment among others," he said.

Wickramaratne added that with the country attempting to re-orient itself towards the outside world, for which steps were taken in the 2018 budget, the ADB could continue to play a major role in Sri Lanka's development agenda.

"The support of the ADB will be needed once again as we embark on the next phase of Sri Lanka's development," he said.