---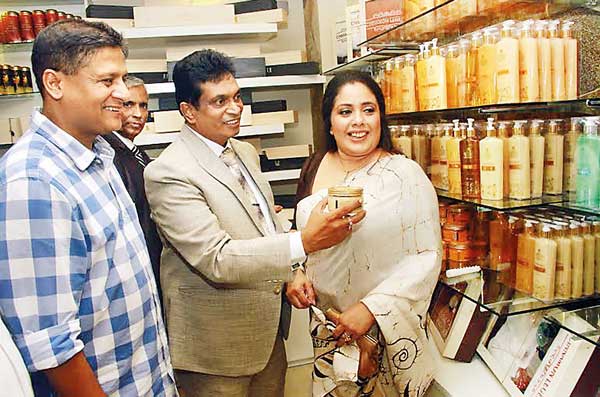 From left: Chief guest and George Steuart Group Chairman Dilith Jayaweera, G. P. De Silva & Sons International
(Pvt.) Ltd Chairman Lal De Silva, Cinnamon Legends Joint Managing Director Nihal De Silva and Cinnamon
Legends Joint Managing Director Upuli De Silva
Sri Lanka's leading cinnamon exporter G. P. De Silva & Sons International (Pvt.) Ltd has advanced into valueadded cinnamon products under its sister company Cinnamon Legends. "We are the leading true cinnamon supplier to the world. Until now, we have exported bulk cinnamon, but we will now also be exporting value-added products,"
Cinnamon Legends Joint Managing Director Nihal De Silva said. He said that though the company has not yet received orders on its new product lines, it will capitalize on the company's global network to retail the products, while also embarking on a massive promotional campaign through trade shows. Cinnamon Legends went into operation last week with the opening of its Cinnamon Legends Boutique, off Lotus Road,
Colombo 01, when it also received the ISO 9001:2008 Certificate for Quality Management Systems.The brand will sell a wide variety of products, including cinnamon tea, powder, shampoo and body wash, lotions and incense. De Silva's brother, Dr. Anura De Silva, who is practicing medicine in the US, said that even though the US' Food and Drug Administration (FDA) has not approved cinnamon products, many consumers are using them,
while doctors also recommend those that have research-proven health benefits. "Cinnamon has a lot of medicinal effects. It's a big market worth billions of dollars," he said.G. P. De Silva & Sons International Chairman Lal De Silva said that the company has a market share of around 20-22 percent of the true cinnamon exports from Sri Lanka.
"There's a potential to maybe convert 25 percent of the bulk exports into value-added exports," he said. He said that the value-added product development process for cinnamon is still in its infancy and that a kilogramme of value-added cinnamon could fetch prices up to 2,000 times more compared to a kilogramme of bulk cinnamon.
"We, of the older gener a t i o n , exported bulk. It is the responsibility of the new generation to go ahead with value addition," he added. Sri Lanka supplies 90 percent of true cinnamon to the world. Its biggest competitor is Cassia, which is commercially planted in China, and has been said to have side-effects when consumed. De Silva said that Sri Lanka exports around 14,000 metric tonnes of cinnamon annually, with a foreign exchange income above US $ 100 million. Pic by Pradeep Dilrukshana