---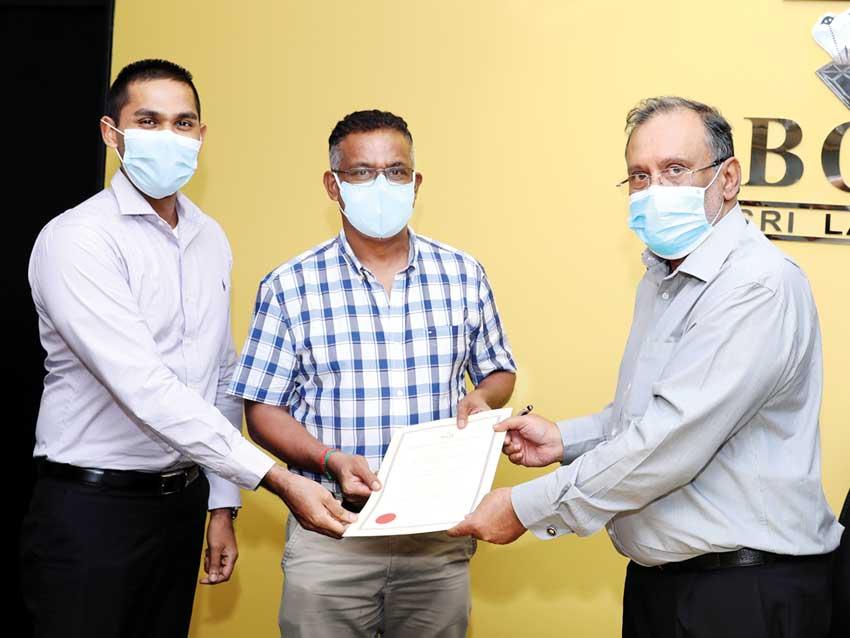 BOI Chairman Susantha Ratnayake formally hands over Certificate of Registration to Dart Global Logistics Group CEO S. Mohandas and COO Jude Wijesundara
Dart Global Logistics (DGL) has signed an agreement with the Board of Investment (BOI) to set up a US $ 3 million state-of-the-art logistics fulfilment centre, at the Muthurajawela Industrial Zone, located in Kerawalapitiya, Wattala.

The facility will offer top-of-the-range third-party logistics (3PL) services under one roof, for various industry verticals. The 10,000-pallet position capacity warehouse, with a state-of-the-art warehouse management system (WMS), latest material handling equipment (MHE) and a well-trained team of logistic professionals, is geared to handle a multitude of
cargo requirements.

The services offered will include: multi-user warehousing with pay-as-you-use pricing model, order fulfilment with the ability to pick pallets/cases or units, carton flow racking and shelving options, pick and pack with barcoded shipping labels for e-commerce fulfilment, islandwide goods transport from the fulfilment centre to retail/factories or regional depots, value-added services such as product repacking, bundling and labelling, QA facilities for goods inspections and verification, office space for clients on rent for onsite stationing, integrated logistics services with freight, customs brokering and transport for customers using the fulfilment centre and approved warehousing facility for the BOI goods storage and related services.

The facility is fully equipped to provide all levels and total scope of 3PL services whilst technologically resourced by a tier one WMS with hand-held RF scanners, enabling exceptional accuracy and efficiency for effective inventory management and order fulfilment.

In addition, a cutting-edge transport management system (TMS) with route/load optimisations will give clients a very efficient cost-effective logistics solution. All client interaction will be executed thorough an online platform for orders, receipts and load bookings.
With direct access to the highway within a two-minute reach—one of the key strategic advantages—the facility has the ability to offer total logistics solutions with their own international freight network and customs brokerage set up, which has been serving the Sri Lankan market for over 37 years.

The uniqueness of the strategic location being in between the Colombo port and airport, apart from having direct access to the expressway network, it gives the clients maximum advantage and opportunity to operate of multi-faceted cross-border shipping and trading operations by utilising this unique facility.

DGL has already acquired a few other facilities at strategic locations to support its very ambitious drive in total supply chain management, while bigger facilities are in the offing.
Dart Global Logistics, formally known as Dart Express, commenced operations in Sri Lanka in 1983, as part of Hong Kong-based Dart Express Group.

Due to the success of Sri Lankan operations, the company expanded its reach to the Indian subcontinent, which had an enormous potential in the region. Across the years, the group has successfully made inroads and has been offering services in India, Bangladesh, Pakistan, Dubai, Madagascar, Mauritius, Vietnam, Indonesia, Cambodia, China, Myanmar and the USA, over the last 37 years.

Considered as one of the top international logistics service providers in the Asia Pacific region, DGL operates through 40 offices across 14 countries strategically located.