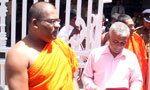 The Bodu Bala Sena (BBS) organisation today met Central Bank Governor Arjuna Mahendran to discuss the recent move to offer financial services under Islamic principles by private banks.
"Islamic banking is a concept of Sharia Law, which prohibits the charging and receiving of interest rates. Islamic banking is one of the fastest growing sectors in the global banking industry and had been adopted by several countries, where the majority is not Muslim," BBS General Secretary Ven. Galagodaatte Gnanasara Thera said at a media briefing after the meeting. The Thera also asked Parliament members, why they were mum on the issue in Parliament.
He charged, the Sharia Law had made its way into the school system as well as into the legal system smoothly without being screened.
"We directly blame the previous government for not taking actions on the spread of Sharia Law as we showed them, who are behind these moves. An immediate discussion was called with the CB Governor to discuss the issue, which is a threat to Sri Lankan society," the Thera said.
Meanwhile, BBS Chief Executive Officer Dilantha Vithanage addressing the media outside the Central Bank said that there was no legal basis to establish Islamic, Sharia or Halal Banking system in the country.
"These banking systems had been introduced through the weak points after the Banking Act-2005 was amended. According to information, it had been clearly mentioned that the Islamic banking system is a part of the Sharia Law. Sharia Law is not a law in Sri Lanka and this is totally against the Banking Law in Sri Lanka," he said.
He said the Sharia banking system would alter the present Banking system, accounting system and financial fundamentals.
He said that according to the documents presented supporting the introduction of Islamic banking, which is a key facet of the Sharia, was the prohibition of 'socially and morally harmful investment activities,' in terms of Sharia Law.
(Chaturanga Pradeep)