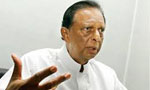 Public Order Minister John Amaratunga said today he was unaware about the move to re-impose the ban on face-covered helmets from April 2.
He said he should have been consulted before deciding on the ban as it was he who lifted the ban which was to have come into effect from March 21.
He said the approval from the subject minister should be obtained when taking such a decision but it was not done in this instance.
"As I am the subject Minister the Police Media Spokesman should have informed me before addressing the media," the minister said.
He said he would call for an explaination regarding the matter.
Police imposed a ban on wearing such helmets on March 2 following recent robberies and killings committed by motorcyclists wearing face-covered helmets.
However, the ban was temporarily lifted on March 9 on a directive made by Minister Amaratunge.
(Chaturanga Pradeep)