---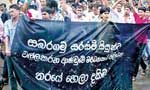 The structure erected by the students of the Sabaragamuwa University on which the undergraduates held a Satyagraha campaign had been demolished by the Police on a court order, the Sabaragamuwa Police said.
However, the students sat continued their satyagraha campaign on the same location on ground a little away from the stage.
Meanwhile, a group of students who were occupying the female hostels had already left on receiving information on the court order.
A tense atmosphere surfaced when the Police informed the students engaging in Satyagraha campaign that the court had ordered the removal of students from the campus.
The students said that they had staged the Satyagrana campaign by the roadside that belonged to the Road Development Authority and not the University.
The administrative officer of the university however said that they were occupying a part of the university campus.
She left the scene when the students questioned whether she had the deeds, plans and other documents to establish her claim.
However, the Police with the help of the Anti-Riot Squad demolished the structure amid obstructions of the students.
The students continued their Satyagraha campaign for the 48th day today. (Lasantha Niroshan Perera and M.Geethakara)