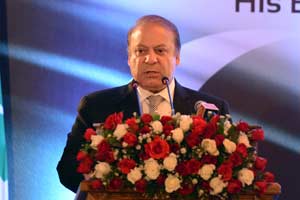 Pakistan was investigating the possibility of setting up a joint investment company and a currency swap agreement with Sri Lanka, said visiting Pakistan Premier Nawaz Sharif yesterday.
Speaking on 'Pakistan-Sri Lanka Relations', at an event organised by the Lakshman Kadirgamar Institute in Colombo, Sharif invited Sri Lankan investors and businessmen to invest in Pakistan and promised that Pakistan's commercial and economic entities would carve out a smooth path for them.
"The Pakistan Trade Development Authority has organised a single country exhibition in Sri Lanka from January 15 to 17. I invite the Sri Lanka Export Development Board to organise a similar exhibition in Karachi -- or any other Pakistani city they like," he said.
Earlier yesterday, the two governments signed a memorandum of understanding to include services and investment chapters in the FTA.
Sri Lanka was in the exceptional position of having entered into a Free Trade Agreement with Pakistan, said Mr. Sharif.
"This would enable companies to form joint ventures for export to third countries. Given the strategic location of our countries, the service centres hold a lot of potential which needs to be exploited," he said.
The present volume of trade between the two countries had not reached its full potential, he said, adding that President Sirisena during his visit to Pakistan had set a target of US$ one billion.
"Both countries have to work with the greatest resolve and commitment to realise this," he said.
Speaking of Pakistan's development since he was elected, he said exceptional economic policies had pushed the growth of the country.
The development of the region depended heavily on cooperation between countries, and Sri Lanka held a key position in the Indian Ocean and had much to offer in maritime cooperation and the maintenance of peace and security in the ocean, he said.
"Pakistan desires enhanced cooperation in the maritime sector and increased security cooperation between the two armed forces," he said.
He said Pakistan would continue to offer training to the Sri Lankan armed forces, the police and other institutions.
Commenting on the wellbeing and the improvement of the South Asian region, he said countries in the region needed to engage in serious dialogue to stabilise themselves and to prosper.
"South Asian countries need to engage in dialogue to fill the gaps between them and to minimise divergence. My vision is a dispute-free region which has zero fighting, disease, malnourishment and poverty. We can overcome these issues with the creativity and the talent of our people. We also need to strengthen the trust between each other,' he said.
Mr. Sharif will visit Kandy today.
(Nabeela Hussain and Lahiru Pothmulla)