---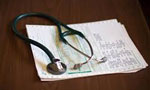 The Philippines and Sri Lankan embassies in Kuwait have no knowledge of a new mechanism to medically test their workers before they head to Kuwait. Yesterday, a report from an Arab media quoted a source from the Ministry of Health that a contract had been signed between a local company and Kuwait to carry out medical tests on workers coming to Kuwait, specifically from the Philippines and Sri Lanka. "We do not know about it. We are still following the same practice as befores," Mohammed Anas, the Sri Lankan Charge d'Affairs told Kuwait Times yesterday at their embassy in Jabriya. "We have our own medical tests in Sri Lanka, and these are approved by the ministries of health in GCC countries.
In order to get the visa, the system we follow is that we have to bring the result of the medical test to the Embassy of Kuwait in Colombo, so obviously accredited companies are carrying out medical tests," he said. The Philippine Embassy concurred. "I don't know that the medical testing system has changed, as we are still following the GAMCA," said Philippine Labor Attache Cesar Chavez.
There have been complaints in the past of workers who have been blocked and are not allowed to work in the Middle East as a result of the Gulf Accredited Medical Clinics Association test. GAMCA was implemented by the GCC countries through a decision made by the executive board of health ministers in 1995.
The objective is to check all pre-departure workers from labor-exporting countries as a preventive measure to ensure medical fitness of every worker and that they are free from all communicable diseases that can threaten the safety and security of Gulf states.
The workers undergo medical tests from their respective countries, but they'll be tested again in the country of destination for accuracy and credibility of the medical check-ups conducted in their countries. Based on GAMCA, workers are unfit to work in GCC countries if they have the following infectious diseases: HIV, AIDS, hepatitis B. surface antigen positive and anti-HCV, microfilaria positive & malaria blood film positive, known leprosy patient, tuberculosis – any type, pulmonary by chest X-ray showing active or past evidence of old TB including minimum fibrosis, calcification and pleural thickening, tuberculosis pleural effusion, tuberculosis lymphadenitis, venereal diseases, VDRL positive and TPHA positive.
Non-infectious diseases that also prevent working in the GCC are the following: Chronic renal failure, chronic hepatic failure, congestive heart failure, uncontrolled hypertension, uncontrolled diabetes mellitus, known case cancer, psychiatric diseases, neurological disorders and physical disability – eg color blindness, deafness, etc. (Source: Kuwait Times)