---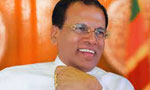 President Maithripala Sirisena paid a glowing tribute to Pakistan yesterday and said that not only the government of Sri Lanka but the entire country was grateful to Pakistan for the enormous assistance it had given this country to defeat the terrorists.

"Sri Lanka today is a peaceful unitary state because of your support," he told the new Pakistani High Commissioner Maj. Gen. (Rtd.) Syed Shakeel Hussain, who presented his credentials yesterday (12) at the Presidential Secretariat.

The president also expressed his gratitude to Pakistan for the support extended at international fora in general and the UNHRC in particular. "Your Ambassador in Geneva fought for us as if he was fighting for his own country," he said.

The Pakistani Ambassador requested Sri Lanka to provide archaeological expertise to Pakistan for the excavation and development of Buddhist sites such as Thakshila -- and the president readily agreed to do so.

Ambassador Hussain said his government had a very high regard for President Sirisena and his steadfast policies and said he would work to further strengthen relations between the two countries and expand trade and economic ties.