---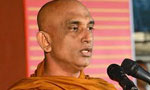 The National Council for a Better Tomorrow Chairman Ven. Athuraliye Rathana Thera said today they would not be worried if former president Mahinda Rajapaksa returned to politics by contesting at the general elections.
He told a media briefing at the Sri Lanka Foundation Institute that the only problem they had was the party through which Mr. Rajapaksa would contest.
"It is not important if he contests or not. We have no intention of teaming up with politicians accused of being thugs, drug dealers, ethanol importers and rapists. We will have nothing to do with the former president if he intends working with the same set of corrupt politicians who were with him till his downfall. We are keeping on the political developments," the Thera said.
(Piyumi Fonseka)