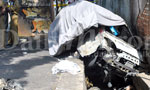 It is yet to be determined whether former Havelock rugby captain and Sri Lankan rugby player Wasim Thajudeen's cause of death was homicide or accidental, Police Spokesman Ruwan Gunasekara said today.
He said the CID had not concluded its investigations into the tragedy.
"According to the evidence collected so far it can either be a homicide or death from natural causes. Investigations are continuing," the spokesman said.
ASP Gunasekara said on the instructions of Police Chief N.K. Illangakoon the investigations were taken over by the CID in February and the report would be submitted to Court after they were completed
Wasim Thajudeen was found dead in his car after it had crashed into wayside wall on May 17, 2012 at Kirillapone.
Police on an earlier occasion said according to the Judicial Medical Officer's report Mr. Thajudeen's death could be termed a homicide.
ASP Gunasekara denied reports that former President Mahinda Rajapaksa's son Yoshitha would be arrested in connection with the tragedy. "These are false rumours and neither Yoshitha nor any others are to be arrested in this connection. We have not found any connection between Yoshitha and Thajudeen and we have not recorded any statements from Yoshitha either," he said.
(Darshana Sanjeewa)