---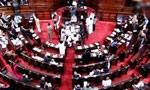 India has taken up with Sri Lanka the issue of recent visits of a Chinese submarine to Colombo, the Indian Government informed the Rajya Sabha on Thursday, saying it closely monitors foreign military presence in the neighbourhood.
"Government of Sri Lanka has informed that the submarine visited Colombo for replenishment purposes, and has reassured that it would not do anything against the security interests of India," Minister of State for External Affairs V. K. Singh said in a written reply to a question.
He said India will continue to take all necessary measures to safeguard the country's security and sovereignty.
"India closely monitors foreign military presence in India's neighbourhood. India and Sri Lanka share a strong and multi-faceted relationship, and cooperate closely on various issues, including defence and security aspects," he said.
The Minister informed the House that the conventional (diesel-powered) Chinese submarine berthed at Colombo port from September 7 to 13 and October 31 to November 6.
He said China has been one of the important economic partners of Sri Lanka since the end of the conflict in 2009.
Singh said that according to available information, China has overtaken Japan as Sri Lanka's largest donor over the last few years and the Sri Lanka-China bilateral trade reached USD 3.085 billion in 2013, which is second only to India. (The Business Standard)