---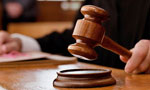 China Harbour Engineering Company Ltd. (CHEC) Director San Ya peng's passport was impounded today when he was produced in Court on charges of not paying the bills submitted by a sub-contractor for work done at the Mattala Airport, Suryawewea Cricket Grounds and the Colombo Port City.
Chandana Pushpa Lal of Hai Sei Construction Company complained to the CID that the Directors of China Harbour Engineering Company who had undertaken the construction work on Colombo Port City Project, the Mattala Airport and the Suriyawewa Cricket Grounds had not settled the bills submitted by his company which had been sub-contracted to carry out the construction work on these projects.
The CID which had launched an investigation arrested the CHEC Director at the airport when he attempting to leave the country.
He was produced before Chief Magistrate Gihan Pilapitiya and released on bail with four Chinese acting as sureties. CHEC Director Shen Wei had already left the country. The case was postponed for April 2.
(Farook Thajudeen)