---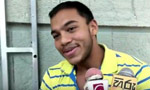 Yoshitha Rajapakse's application for permission to travel abroad accompanying his father former President Mahinda Rajapakse to participate at celebrations relating to the assumption of duties of Ugandian President, was declined by Kaduwela Courts today. The Courts also directed the declined application to be forwarded to the Colombo High Court.
Yoshitha Rajapakse who is charged against fraudulent transactions of the Carlton Sports Network under the Money Laundering act, along with four other directors, are presently enlarged on bail under conditions that had been imposed with a ban on foreign travel.
When the above application was submitted to Courts through a motion, yesterday, the FCID appearing in Courts stated that statements of bank accounts of all the suspects are now under investigations and the connected investigations into other accounts and transactions relating to other complaints have not been concluded, and objected to the grant of permission for the suspect to travel abroad.
Attorney PC Jayantha Weerasinghe who represented Yoshitha and others informed Courts that an invitation had been received by the former President Mahinda Rajapakse to attend the celebration in Uganda on the assumption into power of the Ugandian President, and with the hope of including Yoshitha Rajapakse to accompany his father, this application had been made.
Considering the submissions, Judge Dhammika Hemapala informed that the suspects had been enlarged on bail by the Colombo High Courts, and that therefore this Court cannot grant permission to go abroad, and ordered that this request be forwarded to the Colombo High Courts.