---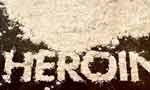 A woman had died by swallowing heroin, when the Police Narcotics Bureau (PNB) attempted arrest her daughter on charges of processing heroin, during a raid at Niwathidiya in Piliyandala on Friday.
The Police said the deceased fainted when the PNB officers tried to record her statement over her daughter's connection with the heroin peddling.
The victim died while being admitted to the hospital.
The Police said the post-mortem examination into the death had revealed the victim's death was caused by the consumption of large amount of heroin.
However, the daughter of the victim had been arrested.
The Police said the husband of the suspect was also in remand custody on charges of alleged heroin processing.