---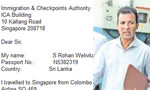 Carlton Sports Network (CSN) Chairman Rohan Weliwita who was deported from Singapore on Tuesday morning, had written to the Singaporean Immigration and Checkpoints Authority requesting the reason for refusing him admission to that country.
Mr. Weliwita was deported from Singapore after three hours of interrogation when he arrived there to attend the Broadcast Asia Exhibition.
In a letter to the Singaporean Immigration Authority on Friday, he said he was in possession of a confirmed return ticket and a confirmed hotel reservation for his stay.
"I am the Chairman of CSN TV in Sri Lanka. The Immigration Authority did not allow me to enter the country. I was deported to Sri Lanka on the same day and was not given any reason for deportation," he said.
Mr. Weliwita said he treated Singapore his second home as he was a regular visitor and that he had never violated rules and regulations of Singapore.
"I have never faced a situation like this before. I believe you will understand the embarrassment I faced at the airport" he said.
The copies of the letter had been sent to the Sri Lankan High Commissioner in Singapore and the Consul General in Sri Lanka for Singapore. (Lahiru Pothmulla)