---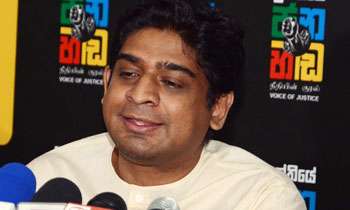 UNP MP Wasantha Senanayake, who rejoined the UNP after a series of topsy-turvy events, expressed regret today at becoming an actor in the current political drama.
"I have become an actor in the current political drama, and I ask pardon from UNPers in Polonnaruwa. I also ask pardon from the President and Prime Minister if I have offended them," Mr. Senanayake, who was sworn in as Minister of Tourism and Wildlife, told the media at Temple Trees this evening.
He said he had decided to return to the UNP as he felt his departure would not be favourable to the party at this crucial time. Asked whether people could expect yet another U-turn from him, he assured that there would be no more crossing over from him.
UNP General Secretary Akila Viraj Kariyawasam said Mr. Senanayake went to the Cabinet meeting recently to hand in his resignation. "Mr. Senanayake was going to vote with us in Parliament last week but he could not make it to the House last Friday," he said.
"Mr. Senanayake had been under tremendous pressure from the UPFA and therefore we told him to remain with them and vote with us at the right time," Mr. Kariyawasam said.
"There are others in the UNP who have been pressurized to shift sides. An MP from the Gampaha District has been offered Rs 200 million as an advance. He informed us about this during the UNP group meeting, and we have told him to be silent and vote with us at the right time," he added. (Yohan Perera)