---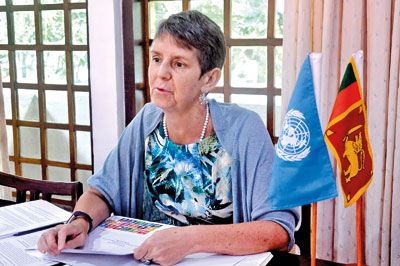 Una McCauley, the UN Resident Coordinator and UNDP Representative in Sri Lanka passed away at the age of 54, the UN compound in Colombo said today.
In a statement, the UN said Ms. McCauley was on medical leave as she was undergoing treatment.
"As the first female UN Resident Coordinator in Sri Lanka, Ms. McCauley was a bold, inspiring, and strong leader. As the most senior UN Official in the country, Ms. McCauley led the UN Country Team of 21 Resident and Non-Resident UN Agencies and acted as the representative of the UN Secretary-General in Sri Lanka. She was a passionate and caring humanitarian, dedicating her life to serve people of the world," it said.
Ms. McCauley was serving in Sri Lanka for six years; two years as UN Resident Coordinator and UNDP Resident Representative, and prior to this, as the UNICEF Representative in Sri Lanka.
Previously, she was the UNICEF Representative for Panama and Togo, and worked at the UNICEF offices in Sudan, Kenya, and Angola. With 17 years of service within the United Nations System and an additional 7 years of service working with children in the development sector, Ms. McCauley was instrumental in developing policies and strategic frameworks on leading global issues in a number of countries.
A national of Ireland and the United Kingdom, Ms. McCauley, was the loving mother of two sons.
"The United Nations Family will miss her dearly, especially her sense of humour, humility, passion, energy, and unwavering commitment to make lives better for all. Our deepest condolences are shared with her family," the UN team in Sri Lanka said.