---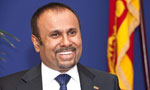 Former Sri Lankan Ambassador to Russia Udayanga Weeratunga and his wife have been given ordinary passports following the cancellation of their diplomatic passports, Parliament was informed yesterday.
Minister of Internal Affairs, Wayamba Development and Cultural Affairs S. B. Navinna who was responding to an oral question raised by Janatha Vimukthi Peramuna (JVP) MP Dr. Nalinda Jayatissa said Mr. Weeratunga's wife had already come to Sri Lanka and had collected the documents.
Dr. Jayatissa then questioned as to how Mr. Weeatunga, who is wanted by the law enforcement institutions on various charges including murder was given an ordinary passports.
Minister Navinna who replied said there was no legal barrier to provide ordinary passports. "Courts never issued any stay order with regard to handing over of ordinary passports." the Minister said. (Yohan Perera)