---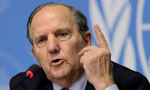 A UN official slammed Sri Lanka's criminal justice system today, accusing police of sexually abusing suspects and still using torture seven years after the end of its ethnic war, AFP reported.
United Nations Human Rights Expert Juan E. Mendez told reporters in Colombo he had found credible evidence of detainees being tortured and disappearances since the end of the war in May 2009.
Mendez, Special Rapporteur on torture and other cruel, inhuman or degrading treatment or punishment, said he heard between 16,000 and 22,000 people had gone missing during the conflict and its immediate aftermath.
He described the disappearances as the "torture of the most horrifying kind".
"The current legal framework and the lack of reform within the structures of the armed forces, police, attorney-general's office and judiciary perpetuate the real risk that the practice of torture will continue," he warned.
Suspects have been beaten with sticks or wires on the soles of the feet, suspended for hours while handcuffed, asphyxiated using plastic bags drenched in kerosene and hung upside down, he said.
In some cases, victims had chilli powder thrown on their face and eyes and there were "sexual violations, including mutilation of the genital area and rubbing of chilli paste or onions on the genital area".
Some people were tortured for days or even weeks, he said after visiting Sri Lankan prisons and meeting with some survivors during a nine-day visit to the island.
Still, he expressed hope the government of President Maithripala Sirisena will deliver on promises of accountability for war crimes and an end to rights abuses.