---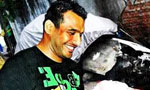 The Criminal Investigation Department today recorded a statement from Anura Senanayake, a former Senior DIG of the Western Province, in connection with the death of ruggerite Wasim Thajudeen.
Sources said the CID had interrogated him for more than six hours.
On April 20, the CID arrested the former OIC Crimes of the Narahenpita Police, IP Sumith Champika on charges of covering up the investigation of the Thajudeen case.
The CID also recorded a statement from Traffic DIG Amarasiri Senaratne in connection with the case.
Earlier, Colombo Additional Magistrate Nishantha Pieris had ruled that the death of Thajudeen appeared to be a murder and ordered the director of the CID to take appropriate action immediately to apprehend the persons responsible for the act.
The burnt body of Wasim Thajudeen, was found in a vehicle near the Shalika Grounds in Narahenpita in 2012. (Darshana Sanjeewa)