---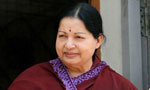 A day after moving the Supreme Court seeking a CBI inquiry into the death of former Tamil Nadu chief minister Jayalalithaa Jayaram, expelled AIADMK MP Sasikala Pushpa today claimed that Sasikala Natarajan and her family might have had something to do with her passing away, the Indian Express reported.
"Tamil Nadu people suspect Sasikala Natarajan and her family might have done something in Amma's death; need justice," MP Pushpa told news agency ANI.
Speaking about her writ petition seeking a CBI probe, MP Pushpa said the investigative agency must closely look into matter right from the day former chief minister Jayalalithaa was admitted in Apollo Hospitals till the day she was declared dead.
"Right from the day she was admitted till she was declared dead, CBI must conduct judicial enquiry," she said.
In her plea before the apex court, the Rajya Sabh MP alleged that former chief minister Jayalalithaa's death must be treated 'suspicious' as no one was allowed to visit her in hospital and no pictures have been made public.
A similar petition was filed before the Supreme Court last week, raising questions over the circumstances leading to her death.