---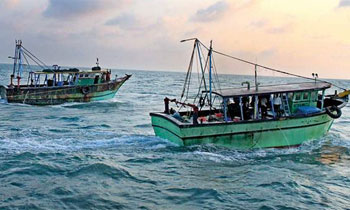 Twelve Tamil Nadu fishermen were arrested by the Sri Lankan Navy for poaching in the Sri Lankan waters in the seas off Talaimannar today.
The arrest comes shortly after the island nation proposed a draconian legislation banning fishing in its territorial waters by foreign trawlers, the Indian media reported.
The Navy also seized two boats used by them and snapped the nets of around 50 boats, Tamil Nadu and Puducherry Fishermen's Association general secretary N.J. Bose said in Rameswaram.
The arrested fishermen were taken to Mannar, he added.
The fishermen have been charged with fishing not only in the Sri Lankan territory, but also with using banned fishing nets which destroys the sea wealth of their nation, according to information reaching the police in Rameswaram.